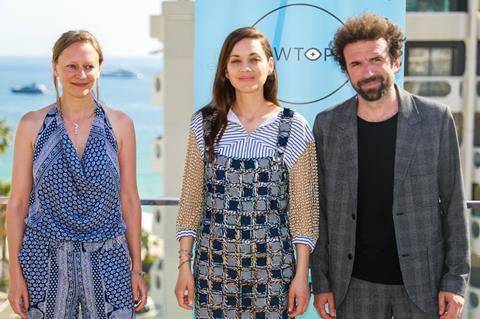 French actress Marion Cotillard is joining forces with filmmaker and environmental activist Cyril Dion and producer Magali Payen in the creation of content company Newtopia, inspired by the impact film approach of Participant Media in the US.
Its central aim will be to create content offering new narratives around issues such as environmentalism, science, society, health, geopolitics, feminism and gender that imagine a better future for the world based on ecologically sustainable and socially fair practices.
The trio launched the company at an event in Cannes on Friday (May 20) and unveiled a slate of projects in development.
They include the geopolitical thriller Le Grand Vertige adapted from a novel by Pierre Ducrozet. It revolves around a high-profile environmental activist who turns to desperate measures to stop climate change. The high-stakes campaign gambles everything, including his beloved daughter.
The company is also developing the original English-language series Françoise, dramatising the life of French pioneering feminist and environmental activist Françoise d'Eaubonne who coined the term ecofeminism. Two English-language writers are currently working on the script.
It follows her personal revolution as she turned 50 in the early 1970s, embraced the ecology movement and then embarked on a plan to bomb the Fesseheim nuclear power plant in northeastern France.
Newtopia is also working on short film Le Géant Bakelite by the deep-sea diver, dancer and filmmaker Julie Gautier. Described as an underwater musical taking inspiration from the Beauty And The Beast fairytale, it will explore plastic pollution in the sea.
Gautier's previous films include the underwater work Ama which led to her working on the video for 'Runnin' (Lose It All)" by UK producer Naughty Boy and featuring vocals by Beyoncé.
In addition to these projects, the company is also planning workshops over the summer connecting writers and other creatives with scientists, environmentalists and activists to open their eyes to other types of stories that can be told.
Genesis
Newtopia is the brainchild of Dion, whose credits include the 2015 documentary Tomorrow. Co-directed with the actress and director Mélanie Laurent, it explored different initiatives around the world proposing positive sustainable solutions to environmental problems
Dion's last film Animal – in which two youngsters travel the world researching ways human beings can live alongside other species without destroying them or their habitat - debuted in Cannes's one-off Cinema for Climate sidebar in 2021.
"It's been four, five years that I've been thinking about creating a company like this," he explained.
"When I saw the impact of Tomorrow, I started thinking we need to multiply these sorts of films, films which propose a different vision of the future, that break with dystopian Mad Max, Blade Runner-style visions, to liberate us and our imaginations, allowing us to envisage a different kind of future."
Cotillard, who is a long-time friend of Dion, has also lent her voice to campaigns calling for sustainable development and social justice in the past and last year took a producer credit on Flore Vasseur's Bigger Than Us, about young social and environmental activists around the world.
Producer Payen began her career in the cinema department of French pay-TV giant Canal+ before deciding to focus on fostering the creation of content raising awareness around climate and environmental issues. In 2018, she created the On est prêt (we are ready) initiative, which creates content aimed at creating awareness around environmental issues and mobilising young people.
She also oversaw the production of short work The Legal Action Of The Affaire du Siecle, featuring French stars such as Cotillard and Juliette Binoche voicing their support for the so-called The Case of the Century action, in which four environmental organisations in France took the government to court for its inaction on climate change.
Payen will manage the company in an executive role, seconded by producer Adrien Mazeau, who previously worked at production company Nord-Ouest Films and Studiocanal.
At her instigation, the company has been registered as a "Société à Mission", a special corporate status in France under which companies write their social and environmental goals into their bylaws and then appoint a committee to ensure these targets are being met. The company is also aiming to obtain B-Corp certification, showing it is hitting high standards of social and environmental practice.
"We want to do things differently and with a new world economy in mind," said Payen. "Our approach will be about cooperation rather than competition, so we can work with the maximum of producers and creators to develop impactful content."
Cotillard is a member of the board alongside Dion and Payen. Other board members include French film industry veteran Camille Trumer, Ombline Le Lasseur and Vincent Ricordeau, founders of the French crowdfunding platform Kiss Kiss Bank Bank as well as Thomas Bénet and Patrick Fournier, who are partners with Dion on production company Bright Bright Bright.
First strategic partners comprise Kiss Kiss Bank Bank, Imagine 2050 and Parenthése Cinéma, an agency specialising in new ways to release films and series and engage audiences.