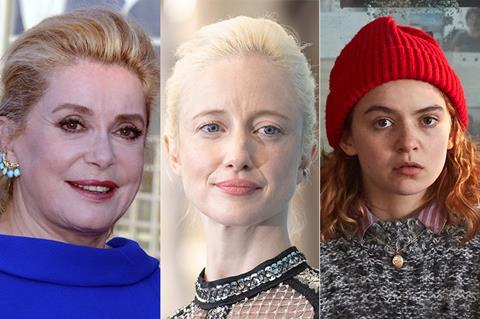 TF1 Studio has added French directorial duo Hanna Ladoul and Marco La Via's English-language comedy-drama Funny Birds to its Cannes market slate.
Catherine Deneuve, Andrea Riseborough and Morgan Saylor are set to star as three generations of women from the same family.
Thrown together under tragic circumstances, the trio are forced to learn to live together on a small rural chicken farm in New Jersey which generates moving and amusing situations.
It is the second feature from LA-based Ladoul and La Via after Anywhere With You (aka We The Coyotes), co-starring Saylor opposite McCaul Lombardi as a twentysomething couple who leave their native Illinois in search of a new life in Los Angeles. It world premiered in Cannes parallel section Acid in 2018 before hitting the North American festival circuit.
Martin Scorsese is executive producer on the new feature. which begins shooting on September 19, 2022, in the US and Belgium. French producer Julien Madon lead produces with partners Aimée Buidine, Melita Toscan du Plantier and Raphaël Gindre.
Madon's producer credits include Julien Leclercq's action picture The Assault, Samuel Benchetrit's comedy-drama Macadam Stories, Frédéric Tellier's environmental thriller Goliath, Lisa Azuelos's bio-pic Dalida and the upcoming Netflix mini-series Notre Dame. Toscan du Plantier's credits include Fatih Akin's In The Fade, for which Diane Kruger won best actress in Cannes in 2017.
The feature is co-produced and distributed by Newen Connect - TF1 Studio, the distribution subsidiary of parent group Newen Studios.
"We were all moved by the intergenerational story of Funny Birds. Catherine Deneuve will shine as a free-spirited, independent woman who comes back into her daughter and granddaughter's life, while they're opposed in so many ways," said Sabine Chemaly, EVP international distribution films Newen Connect - TF1 Studio.
Newen Studios is a subsidiary of French media holding company TF1 Group and a burgeoning European player in audiovisual production and distribution, encompassing more than 40 creative labels across eight territories. TF1 Studio was integrated into Newen Studios at the end of 2020, as its production and distribution label.