Nearly 30 sales companies receive financial backing to market their films in Toronto.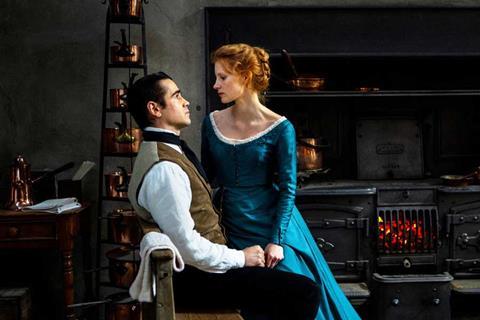 A total of 28 sales companies from eight European countries are to receive financial backing from to market their films at the Toronto International Film Festival (Sept 4-14) from European Film Promotion's Film Sales Support scheme.
More than €150,000 ($200,000) in total is being reserved by EFP for Europe's attending sales companies.
European films eligible for FSS support have to run in the festival and need to be available for Canada. Of the 39 supported films, 27 are receiving their world premiere in Toronto.
Amongst them are François Ozon's The New Girlfriend, Bent Hamer's 1001 Grams and Susanne Bier's A Second Chance.
Michael Winterbottom The Face Of An Angel sees German actor and former European Shooting Star Daniel Brühl in a lead role.
Foreign Body by Krzysztof Zanussi, a co-production between Poland, Italy and Russia with one-time European Shooting Star Agata Buzek in a main role also celebrates its premiere at the festival.
FSS supported films and companies
IRAQI ODYESSY
Director: Samir
Switzerland
autlook filmsales gmbh
GREAT MAN, THE
Director: Sarah Leonor
France
Bac Films
X+Y
Director: Morgan Matthews
United Kingdom
Bankside Films
WASTE LAND
Director: Pieter Van Hees
Belgium
Be For Films
TOUR DE FORCE
Director: Christian Zübert
Germany
Beta Cinema GmbH
LABYRINTH OF LIES
Director: Guilio Ricciarelli
Germany
Beta Cinema GmbH
A PIGEON SAT ON A BRANCH REFLECTING ON EXISTENCE
Director: Roy Andersson
Sweden
Coproduction Office
AMOUR FOU
Director: Jessica Hausner
Austria
Coproduction Office
IN THE CROSSWIND
Director: Martti Helde
Estonia
Deckert Distribution
DON'T BREATHE
Director: Nino Kirtadze
France
Deckert Distribution
SILVERED WATER, SYRIA SELF-PORTRAIT
Director: Ossama Mohammed, Wiam Simav Bedirxan
France/Syria
Doc & Film International
NATIONAL GALLERY
Director: Frederick Wiseman
France/USA
Doc & Film International
SHREW'S NEST
Director: Esteban Roel, Juanfer Andrés
Spain
Film Factory Entertainment
LIFE IN A FISHBOWL
Director: Baldvin Z.
Iceland
Films Boutique
MAGICAL GIRL
Director: Carlos Vermut
Spain
Films Distribution
THE NEW GIRLFRIEND
Director: François Ozon
France
Films Distribution
ATLANTIC
Director: Jan-Willem van Ewijk
The Netherlands/Belgium
Fortissimo Films
PASOLINI
Director: Abel Ferrara
France, Italy, Belgium
Funny Balloons
RETURN TO ITHACA
Director: Laurent Cantet
France/Belgium
Funny Balloons
THE GATE
Director: Régis Wargnier
France
Gaumont
HYENA
Director: Gerard Johnson
United Kingdom
Independent
SENZA PIETÀ
Director: Michele Alhaique
Italy
Indie Sales
EDEN
Director: Mia Hansen-Love
France
Kinology
CUB
Director: Jonas Govaerts
Belgium
Kinology
1001 GRAMS
Director: Bent Hamer
Norway/Germany
Les Films du Losange
LUNA
Director: Dave McKean
United Kingdom
Media Luna New Films UG
FAR FROM MEN
Director: David Oelhoffen
France
Pathé Distribution
XENIA
Director: Panos Koutras
Greece, France
Pyramide International
HIGH SOCIETY
Director: Julie Lopes-Curval
France
Pyramide International
SECRETS OF WAR
Director: Dennis Bots
The Netherlands
Sola Media GmbH
THE GRUMP
Director: Dome Karukoski
Finland
The Yellow Affair
A SECOND CHANCE
Director: Susanne Bier
Denmark
TrustNordisk Aps
WHO AM I - NO SYSTEM IS SAFE
Director: Baran Bo Odar
Germany
TrustNordisk Aps
RED ROSE
Director: Sepideh Farsi
France
Urban Distribution
JOURNEY TO THE WEST
Director: Tsai Ming-Liang
France
Urban Distribution
THE FACE OF AN ANGEL
Director: Michael Winterbottom
United Kingdom
WestEnd Films
THE LESSON
Director: Kristina Grozeva, Petar Valchanov
Bulgaria/Greece
Wide
FOREIGN BODY
Director: Krzysztof Zanussi
Poland/Italy/Russia
Wide
MISS JULIE
Director: Liv Ullmann
Norway/United Kingdom/Eire/France
Wild Bunch