Louise Brennand, Megan Martin and Mandy Rodgers [pictured left to right] upped as part of restructure.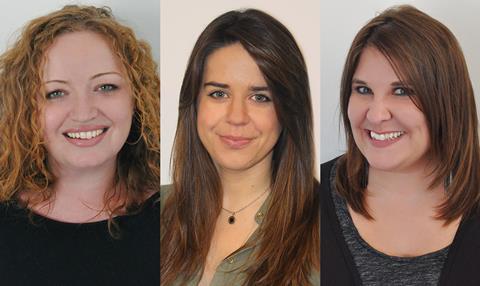 Marketing agency Think Jam has made a trio of promotions as part of a management restructure at the company's London and Los Angeles offices.
Louise Brennand will move into the newly-created role of vice president of creative client services, working out of the LA office and reporting to managing director Daniel Noy.
Mandy Rodgers and Megan Martin both become publicity directors, with Rogers reporting to PR account director Stella Ferguson in the US and Martin reporting to managing director Philip Rose in the UK.
All three will continue to work across a range of entertainment clients including the likes of Twentieth Century Fox, Warner Bros and Netflix.
Think Jam founder and CEO Daniel Robey said: "As we continue to expand our multifaceted agency offering across the film and entertainment industries, it is vital that we have an exceptional senior management team in place to lead the agency's growth and create its future legacy."