Pietro Marcello's Martin Eden has taken the top position of Screen's complete 2019 Toronto Platform jury grid.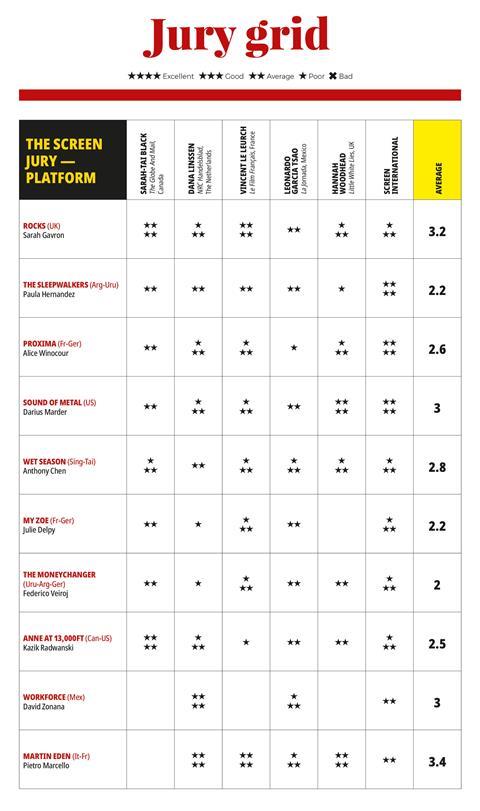 The Italian drama secured an average of 3.4 stars out of four across the six international critics. A score of three stars on the grid represents 'good'.
Martin Eden won this year's Toronto Platform Prize worth CAD $20,000 (US$15,180) and stars Luca Marinelli as a sailor who struggles to reinvent himself as a writer and escape privation.
In close second with 3.2 was Rocks, the UK drama from Sarah Gavron which opened Platform. Rocks is Gavron's third feature after Suffragette and Brick Lane, and follows a teenage girl who has to look after her little brother following the disappearance of her mother.
Tying for third with three stars each was Darius Marder's Sound Of Metal, starring Riz Ahmed as heavy-metal drummer who begins to lose his hearing, and David Zonana's Mexican drama Workforce.
Anthony Chen's Wet Season secured an average of 2.8 stars from the six critics. The drama centres on a teacher and student at a Singapore high school who form a special bond. Chen's previous feature was Ilo Ilo, which won numerous awards at festivals around the world in 2013.
Alice Winocour's Proxima, one of the three films short-listed to be France's entry to the international film Oscar, scored an average of 2.6. Eva Green stars in the drama as an astronaut and mother facing an impossible decision.
Last year's Platform jury grid was a tie between Emir Baigazin's The River and Benjamin Naishtat's Rojo, which both achieved an average of three stars out of four.
Platform is the TIFF's section that highlights strong and distinctive directorial voices.