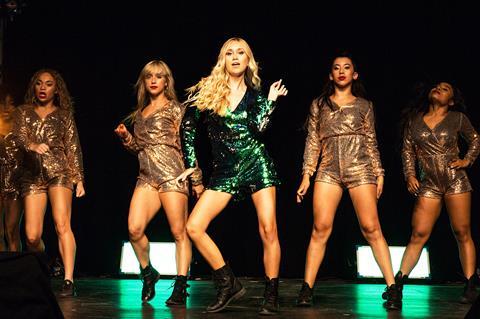 Los Angeles-based MarVista Entertainment has boarded global sales rights to The Loft Entertainment's Mipcom-bound YA dance musical Next Level starring Gen Z influencers Lauren Orlando and Hayden Summerall.
Styled as a cross between High School Musical and Mean Girls, the project takes place at an academy where girls compete for the coveted title of Miss Next. When the reigning champion (Emily Skinner, Andi Mack) is threatened by a talented newcomer (Orlando, Total Eclipse), she tries to sabotage her ambitions.
Marvista has commenced pre-sales and will take Next Level to Mipcom in October after it releases the film theatrically in the US on September 6.
Next Level hails from producer Kristi Kaylor from Gen Z talent specialists The Loft Entertainment. Ilyssa Goodman (The Standoff) directed the feature from a screenplay by Byron Kavanaugh (Garner's Guide To Pretty Much Everything, Kickin' It).
High School Musical soundtrack producer Andrew Lane is the music supervisor and oversees nine original songs on the soundtrack, including performances by Orlando, Summerall, and Skinner, as well as cast members Brooke Butler, and Ellarose Kaylor. Chloe East and Chloe Lukasiak also star.
Kaylor produced alongside Lisa McGuire, her colleague at The Loft Entertainment, while David L. Guffy and Tony Sands of Family Theater Productions and David Socha of Beverly Hills Teddy Bear served as executive producers.
"I was able to put together a dream cast married with a great story, fun music, and standout performances that resulted in an engaging family film that all ages will enjoy," said Kaylor.
"MarVista has always embraced Young Adult content," said CEO Fernando Szew. "With the proliferation of distribution outlets, we have seen an increased demand in this space and have thus increased our production and distribution pipeline. Next Level offers all the elements to appeal to the Gen Z demographic, including a standout cast featuring top-notch singing and dancing; a classic tale of overcoming challenges; and a solid production team. We strongly believe that this movie will perform well and that its audience will love it."
MarVista's recent projects include Falling Inn Love for Netflix, and Sundance 2017 premiere Bitch and Tribeca selection Seven Stages – both from a partnership with Elijah Wood's Company X/Spectrevision.