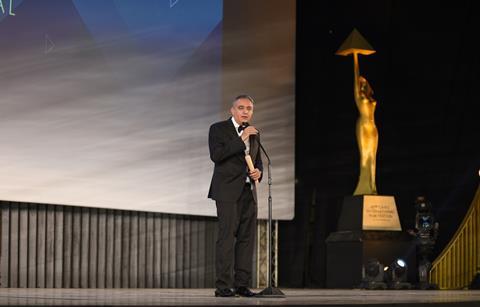 Running a socially-distanced film festival in one of the most populous cities in the world was never going to be straightforward.
Add in the rumour of a royal procession to celebrate the transfer of 22 3,000-year-old mummies to the new National Museum of Egyptian Civilisation, that would bring city centre traffic to a standstill, and the organisers of the Cairo International Film Festival (CIFF) were facing logistical challenges on another scale entirely.
In the end, the procession of mummies was delayed until after the festival closes today (December 10) and CIFF president Mohamed Hefzy and head of industry Aliaa Zaky saw CIFF unfold in its traditional hub of the Cairo Opera House complex and the new location of the Marriott Hotel. International industry guests and Egyptian film professionals networked on the terrace and in the high-ceilinged drawing rooms of the historic 19th Gezirah Palace around which the hotel is built.
Mask wearing was respected and screenings were held at 50% capacity with an empty seat between spectators. The festival also made the most of the lower temperatures in Cairo at this time of year to hold many of its masterclasses and panel discussions in the complex's open air-arenas.
Screen spoke to Hefzy about this year's edition.
What are your initial impressions of this year's festival?
Overall, it's gone well. We have fewer films this year, 84 against 150 in 2019, but I'm happy. The attendance of the screenings at the opera house has been outstanding, which has also been slightly problematic. The lower capacity in the theatres means it has been difficult to accommodate the demand. Around 18 films have sold out [with sold-out screenings including The World To Come, Russian Ark, Curfew, Lift Like A Girl, The Third War and Nomadland].
Might you rein in the selection again next year on the basis of this year's experiences?
Potentially, definitely not to 85 titles again but I would be really comfortable with a selection of 100 to 110 titles.
What have been the highlights for you?
The pitches at the Cairo Film Connection and the Cairo Industry Days talks have been very well received and attended. For the Cairo Film Connection project platform, I didn't read all the 108 projects we received but I did have a look at the shortlist and was part of the process. It's a diverse range with some interesting projects.
What has been the biggest challenge of staging a pandemic-era physical festival?
We had less budget. Tourism has been hit, which has had a knock-on effect on the economy although Egypt is one of the few countries in the world that achieved growth this year, largely thanks to the construction going on around the country. There are teams at the opera house, who walk around the aisles, asking people to put on their masks. You can't impose it 100% and you have to rely on the audience being cooperative so it's not that easy but so far we have no reported cases [as of December 7]. And I hope it stays that way.
How many international guests have attended?
Around 200, against about 470 last year. We usually have a lot of French and American guests but they have not been able to make this year.
Another challenge has been the sudden departure of CIFF's artistic director Ahmed Shawky following protests over social media posts he made some six years ago. How did you overcome that?
Losing my artistic director in May like that wasn't fun. I stepped in a bit more, not as artistic director but as part of the team and [director of the cinema of tomorrow and Eastern Europe programmer] Andrew Mohsen tied all the loose ends together. No one person was making the final decision on selection. It was done as a group.
How has Cairo been impacted by the fact the El Gouna Film Festival ran closer to you this year?
Having El Gouna unfold a month before Cairo was not ideal it would have been nice to have a little more time. The usual two months is a good gap but I guess they had to postpone for obvious reasons.
Why are there fewer Arab features in the International Competition and the Horizons of Arab Cinema Competition this year?
We simply couldn't find as many good Arab films this year for our festival. I would have loved to have had more but we didn't want to pick films we didn't believe in, or we didn't like. I agree this could be down partly to the pandemic and that the fact films either haven't been completed or have been held back. And I think it is going to be a great year for Arab cinema in 2021.
Your main activity is producing. What is next for you after the festival has wrapped?
I have three features that are shooting or due to shoot: Omar El Zohairy's Feathers Of A Father, which I'm producing with Juliette Lepoutre and Pierre Menahem. It's got three to four days left of shooting. Then I'm also teaming with Mario Haddad and Gianluca Chakra on the Arabic-language remake of Perfect Strangers, which is supposed to begin shooting at the end of February and an Egyptian comedy.
I also have a number of features that are completing post-production, which was stopped due to Covid, including Mohamed Diab's Amira and Hany Abu Assad's Huda's Salon. My company [Film Clinic] will also release a number of Middle East Oscar hopefuls this year including Egypt's entry When We Are Born, Sudan's You Will Die At 20, which I co-produced and Jordanian entry 200 Metres.
This is your third edition as the director of CIFF. Will you be back next year?
I'm enjoying it and I have a really good team and as you do something, it gets easier to manage problems because you understand the system. It's one of those questions which keeps lingering and I don't really want to make a decision until we get to the end of this edition. I don't even know if I'll be invited back. I'm not assuming I won't be but it's not my decision alone, it's also up to the Ministry of Culture. I have a great relationship with the minister of culture and think she is happy with what has been happening at the festival over the past two years, but let's see.