Screen International's Arab Stars of Tomorrow spotlights six talents from the Middle East and North Africa who are making their mark on the global stage.
In our fourth edition of Arab Stars of Tomorrow, Screen International celebrates six of the most exciting talents to emerge this year from the Middle East and North Africa. Egyptian director Sameh Alaa, Palestinian-Jordanian actress Tara Abboud, Saudi director Hana Al Omair, Lebanese actress Stephanie Atala, Moroccan actor Brice Bexter El Glaoui and Algerian actor Mehdi Ramdani are the breakout names of 2020.
Click on the links below to read the profiles of this year's stars, and watch video interviews with them above.
In spite of the challenges wrought by the pandemic, it is no exaggeration to say there has never been a better time to be an emerging Arab TV and film talent in MENA. Global platforms have continued to push into the region on the hunt for original content with local, regional and global appeal. Netflix has led this charge. Recent savvy acquisitions and commissions have included Egyptian horror drama Paranormal, the Emirati legal series Justice and Saudi thriller Whispers.
Local players are also getting in on the act. Regional media giant MBC Group has revamped its Shahid VIP platform and ramped up investment in local high-end original content, such as vampire feature Bloodline and star-studded series Nemra Etnein, which explores romance and relationships across the Middle East.
Another gamechanger is the continued rapid expansion of the Saudi exhibition scene after 30 years of closure. Its gross box office is projected to hit $120m this year — $10m up on 2019 in spite of the lockdowns.
Success stories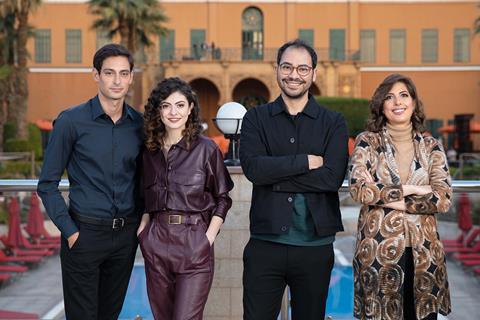 The 2020 edition of Arab Stars of Tomorrow unfolds for the second year under the auspices of Cairo International Film Festival (CIFF) and, for the first time, with the support of MBC Hope, a social responsibility initiative for The MBC Group that focuses on empowering Arab youth. "This has been a difficult year for the industry but, despite the challenges, the wealth of talent in the region is abundant, with new and exciting voices continuing to make their mark behind and in front of the camera," said CIFF president Mohamed Hefzy.
As we celebrate this year's talent, it is exciting to note the successes of a number of creatives from previous editions. Moroccan filmmaker Alaa Eddine Aljem (Arab Stars 2016), whose debut feature The Unknown Saint premiered in Critics' Week at Cannes in 2019, has just unveiled his second feature project Eldorado at Marrakech's Atlas Workshops, which unfolded online this year.
Lebanese filmmaker Mounia Akl (Arab Stars 2016) has started shooting her debut feature Costa Brava Lebanon, starring Nadine Labaki and Saleh Bakri.
Egyptian actor Ahmed Malek (Arab Stars 2017) made his English-language debut in Australian drama The Furnace, which world premiered in Venice's Horizons strand in September. He is back in Egypt with a raft of feature films that will keep him busy well into 2021.
Palestinian actress Maria Zreik (Arab Stars 2017) is much in demand, with credits including Amos Gitai's Laila In Haifa, Syria-set thriller The Translator and A Gaza Weekend, which is currently shooting.
Finally, Moroccan actress Nisrin Erradi, who appeared in last year's selection, has been nominated in the French César 2021 edition's Révé­lation category for her performance in Maryam Touzani's Adam.
Screen predicts equally bright futures for its 2020 Arab Stars of Tomorrow and wishes them well in their progress.
Melanie Goodfellow, curator, Arab Stars of Tomorrow