EXCLUSIVE: Zentropa producer Louise Vesth reveals more details about serial killer story.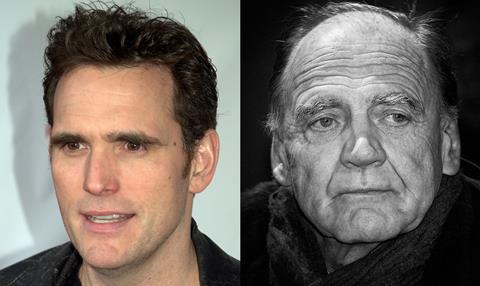 Lars von Trier has cast Matt Dillon and Bruno Ganz in the lead roles of his upcoming serial killer story, The House That Jack Built.
Dillon will play the titular Jack, an intelligent serial killer. Ganz – best known for playing Hitler in Downfall — will star as the mysterious Verge, who has a recurring conversation with Jack about his actions and thoughts.
Von Trier said in a statement, "The two gentlemen have each figured as milestones in my cinematic development. Besides being an epochal match, they are excellent actors and fit quite organically into 'my cinematic family.' I look forward with pleasure and pride to working with them both."
In an exclusive interview with Screen on Wednesday (Nov 2), producer Louise Vesth of Zentropa said that von Trier had been inspired by Dillon's performances in films like Drugstore Cowboy or The Outsiders.
"For Lars, it's very important to meet someone who is really up for doing an adventure with him, it's a long journey. He develops a character all the way up to the shooting and for that he needs somebody who is prepared to take that journey with him, Matt was keen to do that," Vesth said.
Director and actor have already met to discuss the part and will continue to meet until the film starts shooting in spring 2017.
"Bruno is just a perfect match with Matt," she added. "Lars can see they are very different but also the way they can be matched together. Bruno has this huge weight from European films."
The film will follow serial killer Jack over a 12-year period in a non-linear way, capturing his development as a murderer as he strives to perfect the art of killing.
It will show the murders from view-point of Jack, who considers murder "the ultimate artwork."
The House That Jack Built will be set from the 1970s into the early 1980s, a period pre-dating the use of DNA evidence to solve murder cases.
Vesth said the rest of the cast – which is still being assembled – will include "four prominent female roles."
She could not give more detail on the female characters but said, "They all have an important role to play."
That casting will be announced later this year or early 2017.
TrustNordisk has already pre-sold the film to territories including UK (Curzon Artificial Eye), China (DD Dream International Media), Korea (Atnine Film), Latin America (California Filmes), Benelux (September), Poland (Gutek), Taiwan (Moviecloud), Former Yugoslavia (Cinemania), Czech Republic (Aero) and Romania (Independenta Film 97).
Production in Denmark and Sweden
The film will shoot in Trollhattan, Sweden and Copenhagen, Denmark. It marks von Trier's first major film to shoot in his hometown of Copenhagen since Dancer In The Dark in 2000.
Some technical shootings later this month through the end of the year. Principal photography (totaling nine weeks) will then start in spring 2017.
The first part of the shoot will be in Trollhattan, Sweden – the area in Western Sweden supported by Film Vast funding; von Trier has successfully worked there many times with his past films, most recently with 2011's Melancholia.
After a short break, the second half of the shoot will be in Copenhagen, mostly on location. "It's fantastic, Lars always dreamt of coming back to shoot one of his big international films in Copenhagen," Vesth explains.
The film is set in Washington State in the US. "I don't think that it's especially about how things are going on in the US, it's more a comment on how we deal with human beings and society," Vesth says.
The House That Jack Built is budgeted at $9.8m (€8.7m) and produced by Zentropa in co-production with Film Väst, Copenhagen Film Fund and Slot Machine. Backers include the Danish Film Institute, Swedish Film Institute, Nordisk Film & TV Fond, CNC, Film-und Medienstiftung NRW, Eurimages, MEDIA, DR, Nordisk Film Distribution, Concorde, Potemkine, Les Films du Losange, and SVT.
The film is expected to be delivered in spring 2018.