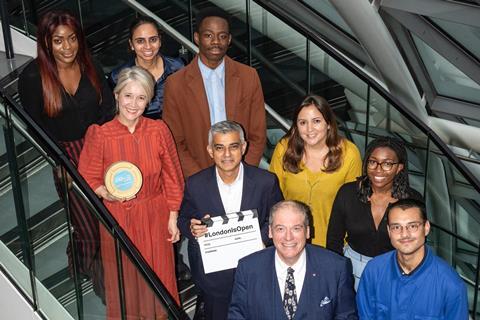 Sadiq Khan, the Mayor of London, and industry heavyweights including Working Title, Studiocanal and Film4 have backed a Film London scheme to improve diversity in the capital's screen sector.
The Mayor of London has pledged £50,000 to the Equal Access Network, launched in January, ahead of the annual Mayor's Gala at the BFI London Film Festival this Saturday (October 20).
The initiative aims to help Londoners, including those from under-represented communities, into paid below-the-line roles in film and TV. The new investment will go towards getting 180 people into paid work over the next year, growing the scheme's talent pool to 300 members, and supporting masterclasses and mentoring schemes.
A host of companies have also pledged to back the Equal Access Network. They include Working Title Films, Studiocanal. Film4. Sony Pictures, ITV, Pathe, HBO, The Ink Factory. Bankside Films, Altitude Film Entertainment, Rocket Science. Anton Corp. Playground, Michelle Kass Associates and SunnyMarch.
Each partner has pledged to provide either; paid internships for members of the Network the talent pool; 'returnships' for parents/caregivers re-entering the industry; a commitment to interview candidates from the network for all entry level and junior-level positions; speakers and mentors for masterclasses; and networking events.
'Returnship' programme
Film London has also received support from ScreenSkills' high-end TV fund to deliver a nationwide 'returnship' programme for the post-production and VFX sector for high-end TV.
Following last year's inaugural scheme, eight parents and carers who have had a career break and are looking to return to work in the sector will be re-trained and assigned paid placements at companies including Milk VFX, The Farm, Molinare, DNEG, Blue Bolt, Outpost and Freefolk.