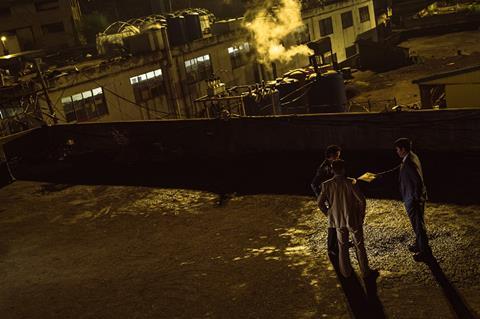 South Korean investor-distributor Megabox Plus M is launching an international sales arm and has unveiled an initial slate led by The Devil's Deal, directed by Lee Won-tae.
Lee's last film was the 2019 Cannes midnight screenings title The Gangster, The Cop, The Devil starring Don Lee (aka Ma Dong-seok from Train To Busan). Sylvester Stallone's Balboa Productions picked up the crime action film for English-language remake last year before its world premiere.
The Devil's Deal is a political drama starring Cho Jin-woong (The Handmaiden, The Spy Gone North), Lee Sung-min (The Man Standing Next) and Kim Moo-yul (The Gangster, The Cop, The Devil).
When a candidate for the national assembly (Cho) is taken out of the running after becoming a thorn in the side of a local bigwig (Lee), he gets hounded by loan sharks for defaulting on a campaign loan. So he decides to steal government information about an urban development plan with the help of a local gang leader (Kim), get back in the race, and take revenge.
The second film in the slate, The Point Men, is a drama based on the true events of the Korean hostage crisis in Afghanistan. Directed by Yim Soon-rye (Little Forest), the film stars Hwang Jung-min (The Spy Gone North) as one of South Korea's most skilled diplomats dispatched to free a group of Korean tourists taken hostage by the Taliban. After all else fails, he is forced to team up with a special agent (Hyun) who is a Middle East expert just as the first hostage is killed.
Comedy drama Dream (working title) is directed by Lee Byeong-heon, whose 2019 fried chicken joint undercover detective comedy Extreme Job is South Korea's second biggest all-time hit with more than 16 million admissions. It was also announced for English-language remake starring Kevin Hart.
Dream (working title) stars Park Seo-jun (The Divine Fury) as a disgraced football player forced to coach a special national team for the 'Homeless World Cup'. Lee Ji-eun (TV's Hotel Del Luna) plays a documentary producer shooting their story as the footballer struggles to coach the homeless players with his misconceptions about them - although it is when they actually start playing that things get out of control.
All three films are in production with plans for release in 2021.
Ahead of the Busan film festival and Asian Contents & Film Market, former Showbox exec Dana Kim is launching sales for Studio M, the international business and ancillary rights department at Megabox Plus M.
Local exhibitor Megabox in 2014 founded Megabox Plus M, which encompasses development, production, financing, distribution and now international sales of films, TV and short form series. Megabox is an affiliate of JoongAng Group, which includes major Korean daily newspaper JoongAng Ilbo and cable broadcaster JTBC.
Megabox Plus M's earlier theatrical slate - handled by M-Line Distribution for international sales - included films such as The Outlaws, Beasts Clawing At Straws, Dongju; The Portrait Of A Poet and Little Forest.