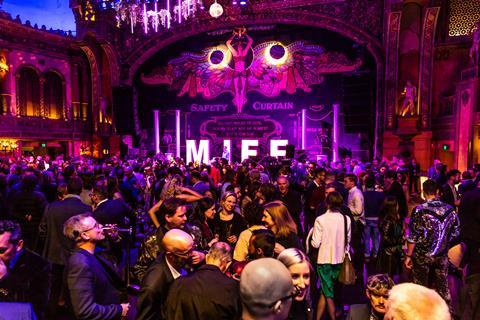 The Melbourne International Film Festival (MIFF) is to showcase around 40 new features online after cancelling this year's edition due to the ongoing Covid-19 pandemic.
The 69th edition of Australia's biggest film festival was due to run August 6-23 but both the public-facing event and industry platforms 37º South Market and Accelerator Lab have now been pushed to August 2021.
However, festival organisers have been working to develop an online alternative that has been labelled MIFF 68 ½.
Approximately 40 narrative and documentary features, including a number of films selected for the 2020 programme, will be available to stream across the festival's original dates (Aug 6-23). The full line-up, set to be announced on July 14, will also spotlight "discovery" features by emerging filmmakers.
A further 30 to 40 shorts will be made available to stream for free, comprising Australian, international, animation and documentary titles. MIFF's Short Awards will go ahead this year to support these filmmakers.
The majority of features will be accessed via pay-to-play ticketed access but around four select titles will screen to a mass virtual audience at particular times, with ancillary online activity such as Q&As being planned to accompany those films.
The festival is also working on a scaled-down, virtual version of its MIFF Talks programme, with up to six events in the pipeline. MIFF's Critics Campus, a non-public facing talent development initiative for emerging film critics, will also take place virtually but there will be no online industry activity beyond that.
The streaming platform is being built by New Zealand-based Shift72, which has worked with SXSW and CPH:DOX among others.
MIFF also revealed it had received "the most significant philanthropic gift from a private donor in the festival's 68-year history", from Melbourne-based film producer Susie Montague, which has enabled the online edition to go ahead. Other supporters include actor and director Rachel Griffiths, who will serve as festival ambassador.
MIFF artistic director Al Cossar said: "MIFF 68½ is our response to these difficult times – the result of our desire to sustain MIFF's outstanding film programming, stay connected with our audience, and foster new audience connections during this truly unparalleled time. While it will not have the scale of a regular festival, it will certainly have all of the heart."