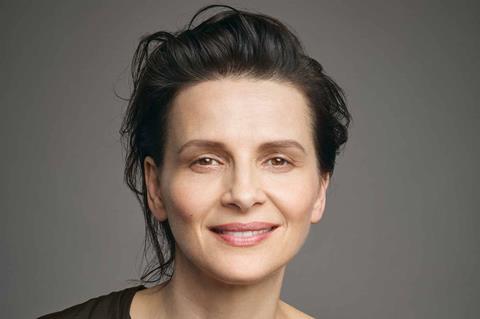 Memento Films International (MFI) will kick off sales on Martin Provost's 1960s-set comedy-drama How To Be A Good Wife, starring Juliette Binoche, at the Unifrance Rendez-vous with French Cinema in Paris this week (January 17-21).
Binoche will star as the co-head of an all-girls housekeeping school in a small town in the eastern French region of Alsace in the late 1960s. She runs the school alongside husband with the mission to train teenage girls to become perfect housewives. The schools were common in France in the 1950s and 60s and Provost has done extensive research into their history.
After the sudden death of her husband, Binoche's character discovers the school is on the verge of bankruptcy and struggles to keep the institution afloat. Her problems coincide with a moment of sweeping social change in France and the nationwide protests of May 1968, which both force the teacher and her pupils to question their beliefs and aspirations.
"These schools covered everything connected to running a home, from folding the washing to managing a budget," explained MFI sales chief Tanja Meissner. "1968 is also a colourful period in recent history. Martin is planning a very detailed, visual universal in terms of the décor and the costumes. There will be lots of musical references too."
The cast also features Edouard Baer as an old lover who re-enters her life,Yolande Moreau, as an eccentric step-sister, and Noémie Lvovsky as a strict nun who teaches at the school.
How To Be A Good Wife is produced by Les Films du Kiosque, the Paris-based production company behind recent films Little Tickles and Mr and Mrs Adelman. Memento Films Distribution will handle the French release. Shooting is set to start in summer 2019.
MFI previously handled sales on Provost's comedy drama The Midwife, which premiered at Berlin in 2017.
New Claus Drexel project
MFI is also launching Claus Drexel'a contemporary drama Winter's Tale, set against the underground world of migrant camps and hang-outs in Paris, at the meeting. Catherine Frot will star as a homeless French woman who spends her days wandering the streets, between pit-stops at food banks and temporary shelters. One night she is woken by the sobs of an eight-year-old boy who has travelled to Europe from Eritrea with his mother but become separated from her in Paris. The two set off on a search to find her around Paris.
Winter's Tale is produced by Etienne Colmar and Didar Domehri and marks the second fiction feature for Drexel. The director is best known internationally for his 2016 documentary work America, interviewing inhabitants of a small town in Arizona on the eve of Donald Trump's election as US president in 2016. He also made On The Edge Of The World, about homeless people in Paris.
The director is understood to be tapping into his documentary roots for Winter's Tale, which will aim to portray the contemporary reality of homelessness in Paris where the number of people living on the streets or in makeshift camps has swelled since the arrival of some 2,000 migrants from the Middle East and Africa in 2015.
"Claus wants to show a side of Paris that is rarely captured on film and to plunge the viewer into the tough universe of underground Paris that few people are aware exists," comments Meissner. "It will be an urban odyssey driven by simple problems and emotional discoveries, which we think will play to Frot's strengths as an actress."
Colmar is producing under his Arches Films banner alongside Domehri at Maneki Films. The pair recently collaborated on Eva Husson's festival hit Girls Of The Sun, which Domehri produced with Colmar as a co-producer. Diaphana has taken French rights for Winter's Tale. It will shoot in March 2019.
In addition to these new projects, MFI will also market premiere Lou Jeunet's racy period drama Curiosa, set in the erotic photography scene of Belle Epoque Paris, and is also screening Julie Bertucelli's comedy drama Claire Darling at the RDV.