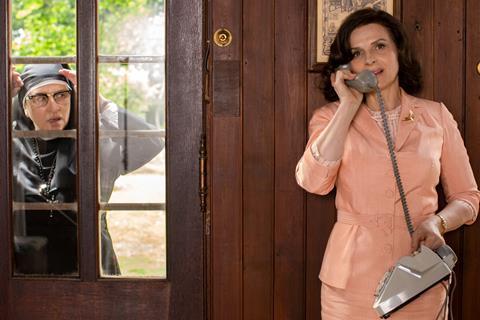 Paris-based Memento Distribution's high-risk decision to reboot the stalled theatrical release of comedy-drama How To Be A Good Wife in unison with the reopening of French cinemas on June 22, after a 14-week Covid-19 closure, appears to have paid off.
Company chief Alexandre Mallet-Guy confirmed to Screen on Wednesday (July 1) that the film had drawn 209,000 spectators over nine days from June 22-30, for a gross of around $1.6m
Total spectators for the feature, which was in cinemas for just four days before French cinemas closed on March 14, now stands at 380,000. The running total stands at $2.9m.
The initial release back in March was to have been Memento's biggest French-language theatrical launch in its 17-year in the history. A lot was riding on its box office performance for the company, which was aiming for 1.5-2million entries.
For its re-release, the company opened the film on 600 screens across France. It has progressively increased this number to hit 1,002 screens for the second week, beginning July 1, which represents a record release for the company.
The French cinema release week traditionally runs Wednesday to Wednesday but due to the fact that theatres were officially allowed to reopen on Monday June 22, most films opened on Monday rather than Wednesday for the first days of activity.
"The film drew 171,000 spectators before the lockdown, 41,000 from Monday, June 22 to Tuesday, June 23, and then 168,000 spectators from June 24 to June 30," Mallet-Guy told Screen.
Overall, in the first nine days of the reopening, some one million people went back to the cinema theatres, which are now operating with stringent Covid-19 measures in places such as empty seats between groups, extra cleaning between presentations, and internet ticketing where possible.
Other winners of the week included SND's relaunched biopic De Gaulle, which drew some 100,000 more spectators for a total of around 700,000 admissions to date, representing a gross of around $5.3m.
Agnieszka Holland's historic drama Mr. Jones was the biggest opener of the week for Condor Distribution, generating some 67,000 admissions for a gross of around $512,000.
Other relaunched titles included Disney's Onwards, which added another 67,000 admissions for a rough 682,000 running total, and Universal's The Invisible Man, which garnered another 43,000 entries for total French entries of 663,000.
New releases for July 1 included Grégory Magne's French-language drama Perfumes (Pyramide Distribution), Zoé Wittock's quirky drama Jumbo (Rezo Films), which debuted at Sundance earlier this year; Brooklyn Secret (JHR Films), Irresistible (Universal Pictures International France), and Marco Berger's The Blonde One (Optimale Distribution).
*As France reports box office by admissions, Screen has reached the dollar gross by multiplying the number of admissions by the average ticket price of €6.79 according to the FNCF.