EXCLUSIVE: Horror snapped up from XYZ after Toronto screening.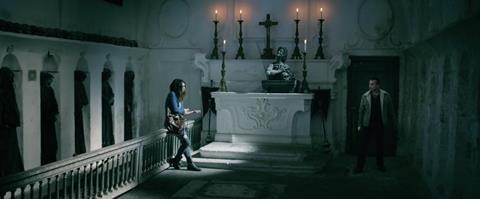 Metrodome has nabbed UK rights to horror-romance Spring from XYZ Films.
The second feature from Resolution co-directors Justin Benson and Aaron Moorhead stars Lou Taylor Pucci (Evil Dead) as a troubled American backpacker in Italy whose romance with a local girl (Nadia Hilker) turns into an unexpected nightmare.
The horror played well in Toronto and at Fantastic Fest where it was snapped up by Drafthouse Films for the US.
The deal was negotiated by Metrodome head of acquisitions Giles Edwards and XYZ's Nate Bolotin.
Justin Benson, Aaron Moorhead, David Lawson and 9.99 Films produced the film with XYZ Films on board as executive producers.
Spring will receive its UK premiere at the London Film Festival and will be released in 2015.
Edwards said: "Just as Ti West's House of the Devil, Jim Mickle's Stake Land and Thomas Alfredson's Let The Right One In invigorated 21st century horror cinema, now we have Benson and Moorhead, fully-fledged masters of their craft, who have delivered a gripping, ravishing and utterly intoxicating masterpiece that is, by some margin, the best genre movie of the year."​