EXCLUSIVE: 12 projects selected for the Film London scheme, which in the past has produced films starring Riz Ahmed (pictured) and Ben Drew.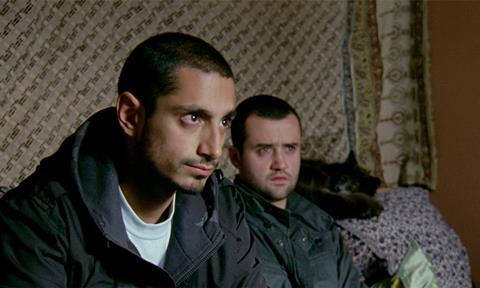 Film London has announced the 12 entries shortlisted for Microwave - the scheme to help emerging filmmakers from the capital with their first projects.
This year's shortlisted films and crews are:
Beneath the Mind, Ella Bennett (director), Kieran Bourne (writer), Oliver Nlemadim (producer), Hannah Bailey (producer).
Bird of Truth, Onyinye Egenti (writer-director), Linda Biney (producer).
Borderline, Alice Seabright (director), Miles Mantle (writer), Merlin Merton (producer).
Divided, Rayna Campbell (writer-director), Sue Caro (producer), Audrey Davenport (producer).
Down From London, Douglas Ray (writer-director), Louise Palmkvist (producer)
Hackney Marsh, Ryan Vernava (writer-director), Joe Copplestone (writer), Matt Hopper (producer).
Mari, Georgia Parris (writer-director), Emma Duffy (producer)
Miss Universe, 2016 Screen Star of Tomorrow Kate Herron (writer-director), Briony Redman (writer), Dougie Cox (producer).
Outgrown, Jay Choi (director), Clare Sumi (writer), Kyle Blanshard (producer)
Smalltown Boy, Alex Winckler (writer-director), Jude Goldrei (producer), Maria Forsstrom (producer).
The Clean Up, Nat Luurtsema (writer-director), Nicole Carmen-Davis (producer), Chris Musselwhite (producer).
Violets Are Blue, Marley Morrison (writer-director), Michelle Antoniades (producer).
Three quarters of the films have a female director, while half feature a filmmaker from a black, Asian or minority ethnic background.
The scheme, created in partnership with Film London, the BFI and BBC films, awards the shortlisted teams a week-long filmmaking skills 'bootcamp' and access to experienced mentors including producer Andrea Calderwood (The Last King of Scotland), writer Brock Norman Brock (Bronson) and directors Rachel Tunnard (Adult Life Skills) and Hong Khaou (Lilting).
The teams will then pitch again to the Microwave panel, with six projects taken forward for further development and two commissioned in 2017 and awarded £100,000 towards the production budget.
Previously the scheme produced the BAFTA and BIFA-nominated Shifty, which starred Riz Ahmed and Daniel Mays; Hong Khaou's Lilting, which won the best cinematography award at Sundance, and the BIFA-nominated iLL Manors, directed by Ben Drew.