Beirut-based film and TV production powerhouse Cedars Art Production has unveiled plans to launch a pan-Arab theatrical distribution label and push into Saudi Arabia with the creation of a Riyadh-based company.
The company is a major film and TV content producer in the Middle East and North Africa (MENA), with offices also in Cairo, Casablanca and Dubai.
It collaborates with all the key regional broadcasters and platforms such as MBC and OSN as well as international players including Netflix.
Major titles include feudal crime series Al Hayba; pan-Arab dystopian drama Hell's Gate, the second season of which is being showcased at the Red Sea International Film Festival this year, and psychological drama Paranoia, which has just launched on MBC's streaming platform Shahid.
In its first new initiative, Cedars Art co-owners Sadek and Ali Sabbah are joining forces with Haitham Jamalelleil, chairman and owner of Saudi company Ritix, on the creation of a new pan-Arab theatrical distribution label called Arab Motion.
Jeddah-based Ritix's diversified portfolio includes production and distribution operations, through which it has already collaborated with Cedars Art on a number of co-productions.
The new Arab Motion label will be run as a separate entity outside their respective companies and will be based in Dubai.
"We'll release around 12 titles a year and it will be a mix of star-driven titles, action films, comedies, romances and even arthouse," Cedars Art co-head Sadek Sabbah told Screen.
The company has already acquired one production from its pipeline, El Hayba The Movie and another four Egyptian productions.
Sabbah said the company was seeking five to six more titles for 2022, two of which he hoped would be Saudi films.
"Our teams are reading a number of scripts," he said. "There's a difference between the Saudi and Egyptian markets even though Egyptian films are doing very well in Saudi right now. We're also taking into consideration other Gulf countries like the Gulf, Kuwait and Qatar to see if there are common denominators, films that can deliver in all territories.
El Hayba The Movie is being directed by Syrian director Samer El Berkawi and is due to start shooting in Turkey in January 2022 for a theatrical release in May of the same year, to coincide with the Eid holiday period.
The first Egyptian acquisitions include star-driven comedies X, featuring an ensemble star cast led by Ahmed Helmy, The Gang, The Mummy's Group and From Above Eiffel's Tower.
The company has another five to eight feature film productions in the pipeline destined for the new label, further down the line.
The launch of the Arab Motion theatrical label reconnects Cedars Art Production with its 1950s cinematic roots, following a shift to drama over the past two decades.
"My grandfather was known as the king of cinema in the 1950s. I was the one who got the company involved in series in the 1990s," said Sabbah. "We wanted to get back into theatrical three years ago, but we had to put our plans on hold because of the pandemic."
"But why are we going back into cinema now? The answer is easy: because of the Saudi market. The Saudi market is a very promising market on box office numbers, on top of the UAE, plus Kuwait, Qatar, Oman Jordan and Lebanon. You have a huge population that is going back to cinema. We have to prepare ourselves. We have the presence, the know-how and the capability," he said.
New Saudi operation
In a second development, Cedars Art Production is also set to open a new Saudi company which will be based in Riyadh, with offices also in Jeddah. Sabbah said the move is in part connected to the company's close ties with Saudi-owned MBC Group, which is a major commissioning client.
"We think that the next move in the media sector will be Saudi Arabia, and because we had offers to be there, and we want to facilitate our business transactions, we took this decision. We're moving a couple of our teams there soon," he said.
The company will be a joint venture with an as-yet-undisclosed Saudi partner and will it will eventually be the new administrative headquarters for Cedars Arts.
Quizzed on whether he thought Saudi's notorious censorship rules could hold local content back, Sadek pointed to MBC's recent crime drama Rashash, created by UK writer Tony Jordan and set in 1980s Saudi Arabia.
"As a general rule, we dislike working with overtly political or religious projects, although the last few episodes of season five of Al Hayba about borders were slightly political because of the nature of the story," he said
"This series [Rashash] is a very complicated series political series that talks about taboos. After it came out, I told myself this is a new era for the genre of series you can plan to make in Saudi."
Drama activities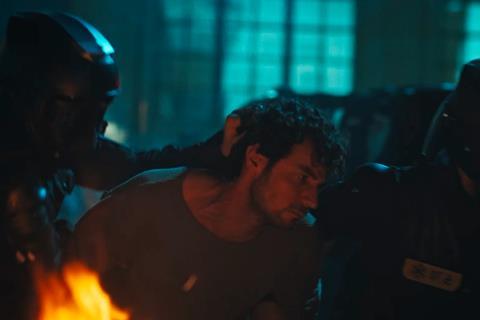 Alongside these new initiatives, Cedars Art will continue to grow its drama series business and currently has some 30 series in the pipeline, said Sabbah.
These include the eight-part High School drama Schoolia, a remake of a Spanish show which is shooting in Tunis; Saudi drama Al Ozla (Solitary), which is shooting in Riyadh and a new 60-episode show Hayat, which is filming in Morocco.
Sabbah noted that the company is increasingly pushing into new genres for the Arab world to appeal to a younger generation of viewers who now access content mainly through the platforms.
As an example, he points to Red Sea title Hell's Gate, which Cedars Art produced as an original for streaming platform Shahid.
Directed by Lebanese visual artist and International Emmy Award winner Amin Dora, the post-apocalyptic thriller unfolds in 2050s Beirut, as a band of revolutionaries attempt to overthrow a group of private investors that have taken control of the country. It stars Adam Bakri Cynthia Samuel, Fadi Abi Samra, Said Serhan and Hassan Farhat.
Hell's Gate was an important series in our catalogue," he says. "It's a new genre of series that has never been made in the Arab world before. It's really edgy in terms of the content and the production and it's whetted our appetite to work on more series in this genre."