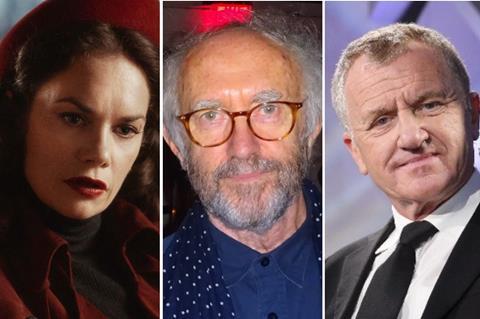 European Film Academy chairman and producer Mike Downey and UK actors Ruth Wilson and Jonathan Pryce have all been honoured as part of the Queen's 2021 Birthday Honours List at the weekend.
Irish-UK producer Downey was awarded an OBE for his services to British cinema. He was elected chairman of the board of the European Film Academy in December 2019 and is also the CEO of production outft Film & Music Entertainment.
"In the difficult times which we are all experiencing," said Downey. "I'm delighted that my career as a European producer and as chair of the European Film Academy is being recognised in this way.
"The United Kingdom is still very much a part of the European Film Academy film family, and I'd like to take this opportunity to reach out to our existing UK members and the UK industry, that participation is welcomed, encouraged and actively desired by your counterparts across the channel."
Pryce, whose credits include The Two Popes, for which he was nominated for an Oscar in 2019, and James Bond film Tomorrow Never Dies, received a CBE title for his services to drama and charity. He will next play Prince Philip in the upcoming and final series of Netflix's The Crown.
Wilson was awarded an MBE for her services in drama. Her recent credits include BBC fantasy series His Dark Materials while her film roles include Harry Wootliff's True Things About Me, with Tom Burke, which has been selected as one of the titles in the BFI-British Council's Great 8 showcase for international buyers.