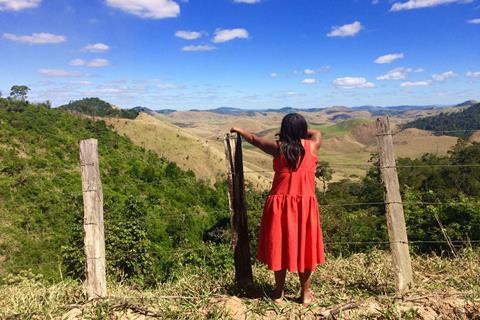 Brazilian documentary Nũhũ Yãg Mũ Yõg Hãm: This Land Is Our Land! has been awarded the best international film prize at Sheffield Doc/Fest 2021.
The film, directed by Brazilian Indigenous filmmakers Isael and Sueli Maxakali and collaborators Carolina Canguçu, Roberto Romero, exposes the hardship of the Tikmun'un people following the arrival of white settlers.
The documentary was selected from 11 features that played in the international competition of Doc/Fest, which took place as a hybrid event from June 4-13.
At a physical ceremony, hosted by festival director Cintia Gil at Sheffield's Abbeydale Picture House, all but one of the winners delivered acceptance speeches via pre-recorded video messages.
The international competition also gave a special jury award went to Portugal's Equatorial Constellations, directed by Silas Tiny, while special mentions were bestowed on Summer by Russia's Vadim Kostrov and Double Layered Town / Making a Song to Replace Our Positions, by Japan's Komori Haruka and Seo Natsumi.
In the UK competition, the best film award was presented to Ali And His Miracle Sheep, an Iraq-UK co-production directed by Iraqi photographer and filmmaker Maythem Ridha.
The 25-minute film, which world premiered at Doc/Fest, follows a nine-year-old mute boy who takes his sheep for sacrifice on a strenuous 400km journey across Iraq's war-torn landscape. The film is produced by London-based 7th Heaven Studios, which is also handling world sales.
A special jury award went to Ben Reed's agoraphobia film Portrait of Kaye while a special mention was given to Bradley and Bradley's The Battle Of Denham Ford, centred on environmental campaigners against the UK's HS2 rail project.
The Tim Hetherington Award, recognising a film and filmmaker which best reflects the legacy of the late journalist, went to The Silence Of The Mole, by Guatemala's Anais Taracena. The film recounts the story of a journalist in the 1970s who infiltrated the repressive Guatemalan government to aid the resistance movement.
A special mention went to Nũhũ Yãg Mũ Yõg Hãm: This Land Is Our Land!.
The youth jury handed its award to Colombia's If God Were A Woman, by Angelica Cervera.
The award ford best first feature went to Guinea-France co-production Fixed Barricade At Hamdalaye Crossing.
Doc/Fest's audience award was won by US feature Charm Circle, by Nira Burstein, who was present at the ceremony to accept the honour. The documentary also secured a special mention in the first feature category.
The ceremony was followed by the world premiere of Mark Cousins' The Story Of Looking, which closed the 28th edition of the festival.