Live cinema broadcast has generated more than $1m at the UK box office to date.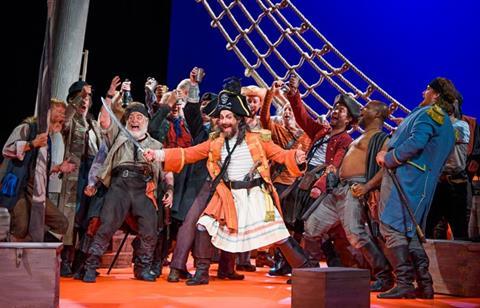 A live cinema broadcast of Mike Leigh's English National Opera debut The Pirates of Penzance has become the highest-grossing live event in cinemas and other venues across the UK.
To date the UK box office has exceeded $1m, beating all previous UK opera event cinema releases. The figure is set to increase with encore performances and international screenings.
The previous record for an opera was the Metropolitan Opera's broadcast of Franz Lehar's The Merry Widow earlier this year, which took $770,000 in total.
Alternative content producer/distributor Altive Media worked alongside English National Opera to bring The Pirates of Penzance to an audience of more than 40,000 people on the big screen in multi-camera HD on May 19.
Altive Media and English National Opera launched ENO Screen in 2013 and previous live screenings include Peter Grimes, Terry Gilliam's production of Berlioz's Benvenuto Cellini and a 2015 season of live screenings including La traviata. The next live broadcast will be Carmen on July 1.
Other forthcoming live broadcasters include The Barber of Seville, La Bohème, The Mikado and The Magic Flute.
Altive Media have also released the extreme sports 3D spectacular At the Very Last Moment, the Kasabian rock concert Kasabian Live! Live at The O2 and award winning feature film Vinyl.