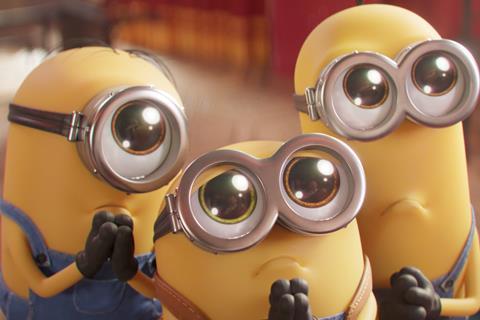 Creating new optimism about the return of the family audience to cinemas, Minions: The Rise of Gru ended the long holiday weekend in North America with a four-day box office gross of $123.1m, a record for an Independence Day release.
The Universal/Illumination animated sequel performed well ahead of expectations and by the end of the Monday holiday in the US had out-grossed previous July 4 long weekend record holder Transformers: Dark of the Moon, which took $115.9m in 2011.
A three-day domestic total of $107m ranked The Rise of Gru behind the original Minions film, which opened with $115.7m over three days in 2015 (according to Box Office Mojo) and stands as the biggest domestic opener of all the entries in the Minions series and its parent Despicable Me franchise.
The four-day domestic take left The Rise of Gru with a worldwide total of $216.9m by the end of Monday and the performance contrasted with the disappointing opening two weeks ago of Disney/Pixar's Lightyear.
Expectations are now high for the opening of Disney/Marvel's Thor: Love and Thunder, which arrives in most international markets this week and opens in the US and Canada on Friday (July 8). Previous franchise installment Thor: Ragnarok opened in 2017 with $122.7m domestically, easily topping the debuts of the first two Thor installments. Love and Thunder is now being projected in some quarters to end its first weekend with a worldwide tally of around $300m.