UPDATE: ZDF Enterprises, Fisher King, BeIN and Netflix deals; FMI acquires War Child doc sales rights.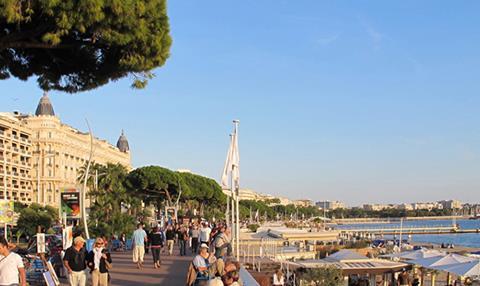 The blurring of the lines between film and TV as well as the platforms on which both features and series are distributed was a recurrent theme at MIPCOM on Tuesday.
At a panel on the the crossover of talent from film to TV, speakers See-Saw Film's COO Hakan Kousetta, eOne Television president of global scripted programming Pancho Mansfield and WME IMG partner Chris Rice were unanimous that there was no turning back the trend.
"We've stopped looking at them as different," said Rice, who helped package the BBC's The Night Manager and Canal Plus, Sky Italia and HBO's The Young Pope. "Virtually ever actor and director has come round to this. It's a great time to tell stories."
Kousetta said See-Saw Films had expanded into TV from a feature film base "accidentally" after Australian Oscar and Cannes Palme d'Or-winning director Jane Campion happened to mention to co-chief Iain Canning she had been privately working on a TV project during a meeting set up to discuss a feature film collaboration.
It would become the company's first high-end TV production, Top Of The Lake, which Kousetta described as a game-changer for both the company and the wider film and TV industry.
"It was one of the first indie incarnations of a writer-director coming up with a TV idea. It kind of showed people what was possible. I don't think any of us foresaw just how big the show would get and what other opportunities it would bring. It ended up giving birth to our TV division," he said.
Pancho said the focus of Hollywood Studios on big budget superhero franchises to the detriment of well-crafted dramas had pushed writers, directors and acting talent to turn to TV.
Stories that would have once been adapted to the big screen as low or medium budget independent productions, he said, were now turning up as what he called "ultra-packages" for TV.
He cited the example of eOne's upcoming drama Sharp Objects, an adaptation of a novel by Gone Girl writer Gillian Flynn, directed by Jean-Marc Vallée and starring Amy Adams.
"Very few people can afford to make these sort of ultra-packages. They're not easy to pull off and often we don't get to hear about the ones that don't make it," said Pancho.
Kousetta said the exodus from independent feature film to TV looked set to continue: "The reality is that the bottom has fallen out of the international market for movies. Unless that changes which doesn't look like it is going to happen any time soon there is going to be a continued interest from people working in that industry in other mediums."
Elsewhere in MIPCOM's conference programme, Participant Media CEO David Linde spoke in a keynote address about how the company — set-up by entrepreneur and philanthropist Jeff Skoll to create content with a social impact - was increasingly expanding production into other mediums beyond feature film.
"At Participant we're going to double down on content across all formats. Our goal is to expand beyond film to create a steady of drum beat of resonant content for a global audience on the subjects and issues they care most about," he said.
The company remain committed to non-scripted and narrative features, he said, but had also moved heavily into TV in recent months.
He announced the company had just boarded the unscripted series America To Me by award-winning documentarian Steve James as well as a scripted series inspired by its Oscar-winning production Spotlight and another drama spinning off Alex Gibney's Zero Days, which is being developed by Downton Abbey producer Carnival Films.
Participant was also expanding into short form content aimed at the digital space, he noted. The company's recent acquisition of Rainn Wilson's digital production outfit SoulPancake — which has generated some 300 million video views and has some 8.8 million social media fans — was a key pole of this strategy.
"SoulPancake produces content that travels across platforms from YouTube to network television and increasingly for social media platforms such as Snapchat," said Linde, before playing a short form video showcasing Wilson's work.
ANNOUNCEMENTS ROUND-UP
Alongside MIPCOM's conference programme, the content market carried on full-tilt. Here is a round-up of some of Tuesday's announcements:
ZDF Enterprises and Fisher King Ltd sign first-look deal
ZDF Enterprises and Fisher King Ltd, the award-winning Finnish production company of producer Matti Halonen and director Miikko Oikkonen have signed a first-look deal. Under the accord, ZDF Enterprises will have exclusive, first-look rights to all scripted content developed by Fisher King, to serve as a financier and handle worldwide distribution.
The first project included in the deal is the character-driven thriller series Watchdog set against the backdrop of contemporary European legal, financial and insurance institutions with Helsinki, London and The Hague as key locations.
Fisher King's previous dramas include Bordertown which premiered on Finnish broadcaster YLE on Oct 16, capturing 26% of the territory's audience.
EAO report
European feature films account for 31% of all films broadcast in Europe, according to a new report released by the European Audiovisual Observatory at MIPCOM.
Breaking down that figure, the report revealed that 16% of the films were national films, 15% were European non-national film while 65% of the titles hailed from the US.
The report was based on a sample of 125 TV channels in 17 EU countries over the two seasons of 2011/12 and 2014/15.
For the full report click here.
Netflix seals Telemundo telenovelas deal
Streaming giant Netflix announced Tuesday it had sealed a deal with Spanish-language production powerhouse Telemundo for a slew of its upcoming original telenovelas including El Chema, Sin Senos Sí Hay Paraíso and Guerra de Ídolos.
Under the deal, the titles will premiere exclusively in Latin America and also be available in Spain and the US.
El Chemais a spin-off of Telemundo's long-running series The Lord of the Skies (El Senor de los Cielos) about a Mexican drug kingpin Aurelio Casillas, building on the supporting character of Jose Maria 'Chema' Venegas played by Mauricio Ochmann.
The deal also includes multi-territory on-demand rights for series including The Queen of The South (La Reina del Sur) and telenovelas like Passion of Hawks (Pasión de Gavilanes). New seasons of El Señor de los Cielos will be available exclusively to Netflix members in the United States
"These new deals with our partners at Netflix will allow both companies to continue to grow in the SVOD market and provide even greater international and domestic exposure to our content," said Cesar Conde, Chairman of NBCUniversal International Group and NBCUniversal Telemundo Enterprises.
BeIN signs multi-year content deal with Warner Bros
Qatari premium broadcasting giant BeIN has signed a multi-year acquisition deal with Warner Bros International Television Distribution that will make it the main conduit for the Hollywood studio's content in the Middle East as of 2019.
As of this year, the pan-Arab broadcaster will have access to hit shows like Arrow and Gotham as well as second pay-window rights for Warner's feature films.
In 2019, this will be upped to first-run programming and first pay windows for features. The accord also includes catch-up rights and access to Warner Bros' back catalogue
Yousef Al-Obaidly, deputy CEO of BeIN, said: ""BeIN is constantly trying to achieve leadership position within the entertainment space and this deal with Warner Bros. will help us become the number one choice for movies and entertainment lovers in the Middle East and North Africa."
War Child
FreemantleMedia International (FMI) has acquired world sales rights to Jamie Roberts's provisionally entitled feature documentary War Child following the stories of four child refugees as they make their way from the Middle East and Africa in search of safety in Europe.
The documentary was commissioned by Channel 4 and is produced by Lightbox, the production company of Academy Award-winning producer Simon Chinn (Man on Wire, Searching for Sugar Man) and Emmy Award-winning Jonathan Chinn (American High, 30 Days). Roberts's previous feature documentaries include The Jihadis Next Door, Angry White and Proud.
"Lightbox has captured a raw, emotional and powerful portrayal of the current refugee situation. The world is facing a huge crisis and through War Child, we can help spread a very important message to viewers around the world," said Angela Neillis, director of acquisitions and development, non-scripted at FMI.