EXCLUSIVE: Eriq Ebouaney and Sandrine Bonnaire to co-star in asylum seeker love story.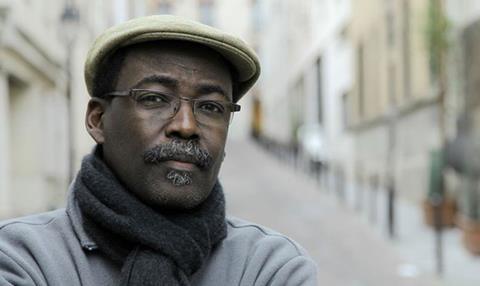 MK2 Films has taken on world sales of Chadian director Mahamat-Saleh Haroun's [pictured] upcoming drama A Season In France.
Eriq Ebouaney and Sandrine Bonnaire have signed to co-star in the film revolving around the relationship between an asylum seeker and a French woman.
Ebouaney – who was recently seen in Bastille Day – plays Abbas, a widower and teacher from the war-torn Central African Republic seeking asylum in France. Awaiting a decision on his application, he works in a food market on the outskirts of Paris to support his two young children.
Bonnaire will play Carole, a French woman who falls in love with Abbas and offers him a home.
Florence Stern of Paris-based Pili Films is producing the film, which is due to shoot in Paris and Northern France this October.
The production marks Haroun's first feature shot in France after dramas set in contemporary Chad, including the Cannes Jury Prize-winning A Screaming Man and 2013 Palme d'Or contender Grigris.
It follows his recent documentary Hissein Habré, A Chadian Tragedy which premiered at Cannes this year to critical acclaim.
The work documented the case of former Chadian president Hissein Habré who was sentenced to life in prison in May 2016 after being found guilty of human rights abuses, including ordering the killing of 40,000 people.
"A Season in France fits perfectly with our auteur-focused line-up which now features a refreshing mix of established directors and newcomers," said MK2 Films sales and acquisition chief Juliette Schrameck, who oversees content at the company.
This line-up also currently includes Stéphane Brizé's Guy de Maupassant adaptation A Woman's Life – about a young aristocratic trapped in an abusive marriage – and Robert Guédiguian's new film The House By The Sea, a loose adaptation of Anton Chekhov's The Cherry Orchard transposed to Marseille.
Prior to Cannes, Schrameck announced MK2 had taken on sales of two first features by directors whose shorts have already made waves on the festival circuit: The Nature Of Time by Karim Moussaoui and Look Up (Guarda In Alto) by Fulvio Risuleo. It has also recently taken on sales of Modi Barry and Cédric Ido's Chateau, set against the backdrop of the hair salons of Paris's multicultural neighbourhood Chateau d'Eau.
MK2's Cannes line-up also included Olivier Assayas's supernatural thriller and Palme d'Or contender Personal Shopper, which shared the best director prize with Cristian Mungiu's Baccalaureat, and Japanese director Koji Fukada's Harmonium which won the Jury Prize.