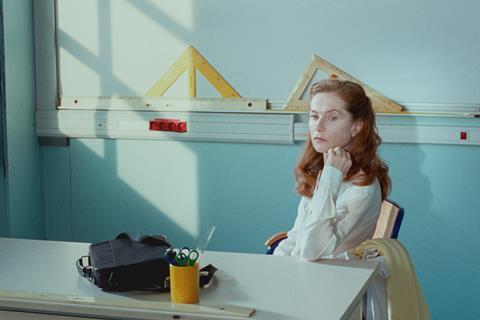 The Orchard has picked up North American rights to Serge Bozon's French comedy Mrs Hyde from Paris-based mk2 films.
The film stars Isabelle Huppert as a timid physics teacher who undergoes a personality change after being struck by lightning.
It will open the film in New York in April, to be followed by select cities. An on-demand and digital platform release in the US and Canada will take place from June 19.
Loosely inspired by Robert Louis Stevenson's classic novella The Strange Case of Dr. Jekyll and Mr. Hyde, the film made its world premiere at the Locarno film festival in August 2017 where Huppert won the best actress award, and went on to screen at the New York Film Festival and most recently at Critics' Week at the Berlinale. It was produced by David Thion and Philippe Martin at Paris-based Les Films Pelléas.
Mrs Hyde is Bozon's third feature and reunited him with Huppert who appeared in his comedy thriller Tip Top in 2013.
mk2 films has sold the film widely around the world. In Europe it has been sold to Italy (Movies Inspired), Switzerland (Praesens-Film), Greece (Spentzos Film), Portugal (Midas Filmes), Turkey (Bir Film), Poland (Against Gravity), Hungary (Cirko Film), Former Yugoslavia (2i Film), Bulgaria (Bulgaria Film Vision) and CIS (Russian Report).
In Asia, mk2 has secured deals to Japan (Kino Films), South Korea (Atnine Film), China (iQIYI), Taiwan (Av-Jet International Media) and Thailand (Coral Culture Content).
It has also been picked up for Tunisia (Hakka Distribution). Brazil (Fenix Filmes) and Inflight (Entertainment in Motion).
Haut et Court is releasing Mrs Hyde in France today (March 28).
mk2 films managing director Juliette Schrameck said: "Serge Bozon has such a distinct style and approach, that he couples with real social commentary, all whilst flirting with different genres. We're really happy that his most recent collaboration with Isabelle Huppert has found a home in the US with The Orchard and across much of Europe and Asia."