EXCLUSIVE: Palme d'Or contender starring Juliette Binoche, Kristen Stewart and Chloë Grace Moretz sells to 20 territories.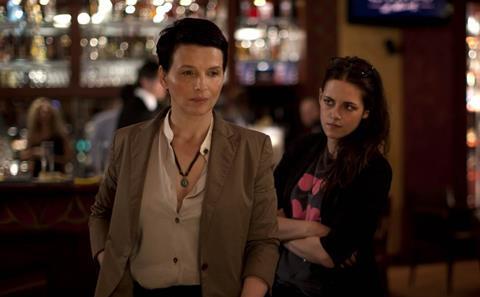 Paris-based MK2 has closed a raft of deals on Olivier Assayas' Clouds of Sils Maria, starring Juliette Binoche, Kristen Stewart and Chloë Grace Moretz, ahead of its premiere in Competition at Cannes.
The film has sold to Italy (Good Films), Benelux (De Filmfreak), Germany (NFP), Switzerland (Filmcoopi), Hong Kong (Golden Scene), Korea (Tcast), Portugal (Leopardo Filmes), and ex-Yugoslavia (Continental Film).
It has also been acquired for the Middle East (Falcon), Turkey (Yeni Bir) and airlines (Encore). As previously announced IFC Films has taken US rights. Les Films du Losange will release the film in France at the end of August.
"We're in talks on a lot of other territories, notably Latin America, Scandinavia, Russia and the UK," said MK2's sales chief Juliette Schrameck.
Set in the Swiss alpine lake district of Sils Maria, the picture stars Binoche as an actress at the peak of her fame who is thrown into turmoil after a younger woman is signed to play a role that made her famous two decades previously.
It is produced by Charles Gillibert's CG Cinema, Pallas Films and Cab Production.
Official Selection
The company, which celebrates its 40th anniversary this year, has four titles in Official Selection.
"We're well placed in the Official Selection this year. We've got three films in competition and two titles in Cannes Classics, which we're over the moon about," said Schrameck.
Aside from Clouds of Sils Maria, it is also selling Naomi Kawase's Palme d'Or contender Still the Water, a coming of age story set on a remote Japanese island, that begins with a teenage boy discovering a dead body floating in the sea.
Outside its sales slate, the company has also acquired French rights to Xavier Dolan's competition picture Mommy, from Seville International, which it will release in France via Diaphana. Dolan's previous film Tom At The Film is on the MK2 slate.
Cannes Classics
The company's two pictures in Cannes Classics are a 4K restoration of François Truffaut's war-time drama The Last Metro, starring Gérard Depardieu and Catherine Deneuve, and a newly restored version of Krzyztof Kieslowski's Blind Chance – Director's Cut, following a young man's life in Poland's turbulent 1970s.
The MK2 slate also features Alexandre Moix's upcoming documentary Truffaut Insurrected, an intimate portrait of the director on the 30th anniversary of his death in October 1984.
The company is also selling a number Tauffaut's classic works restored in 2K, including Jules and Jim and The 400 Blows.
Other heritage titles on MK2's Cannes slate include restorations of Charlie Chaplin classics such as The Kid, The Great Dictator and The Tramp. It is the 125th anniversary of Chaplin's birth this year, and the 100th anniversary of The Tramp.
MK2 is also selling the new documentary Chaplin Behind The Mask, following his rise to fame, which will be broadcast in France during Cannes.
Upcoming Productions
The company, which has moved its location in Cannes to the Résidence Grand Hotel this year, will also be selling a number of upcoming films.
They include Robert Guédiguian's Don't Tell Me The Boy Was Mad about the victim of a terror attack in Paris, who travels to the perpetrator's home in Marseilles to confront his family. Unexpectedly, he is welcomed in and ends up staying with the family. One day, their son who committed the crime gets in touch from Lebanon.
MK2 is also handling Paolo and Vittorio Taviani's Wondrous Boccaccio, taking inspiration from Giovanni Boccaccio's 14th century literary classic The Decameron.
Starring a vast, ensemble Italian cast, it revolves around a group of city dwellers who takes shelter in a villa in the hills after an outbreak of plague in Florence. To wile away the time, they take it in turns to tell stories. The production began shooting in March.
The slate also includes Elodie Namer's debut picture The Tournament about an international chess tournament in Budapest in which an 11-year-old prodigy takes on a 22-year-old master. It is currently in post-production.
"It's a very original story by a really promising young director," commented Schrameck
Other new titles on its slate include Carlos Saura's Argentina, exploring traditional Argentine music and featuring the participation of folk singers such as Soledad Pastorutti and Chaqueno Palavecino.
MK2 40th anniversary
As part of its 40th anniversary celebrations, the company is also selling restored versions of three films by MK2 founder Marin Karmitz.
All characterised by socially and politically committed undertones, they comprise 7 Days Somewhere Else, about a young composer who goes on tour with a ballet troupe;Comrades, set against the backdrop of Paris' left-wing militant scene of the late 1960s, and the 1972 Blow for Blow, revolving around a strike by a group of exploited textile workers.
MK2 is also selling the documentary Marin Karmitz – A Life in Movies, written by Felix Von Boehm and written by the producer's long-time collaborators Binoche, Christian Boltanski, Michael Haneke, Abbas Kiarostami and Agnès Varda.
A number of retrospectives at cinematheques and festivals around the world are expected later this year.