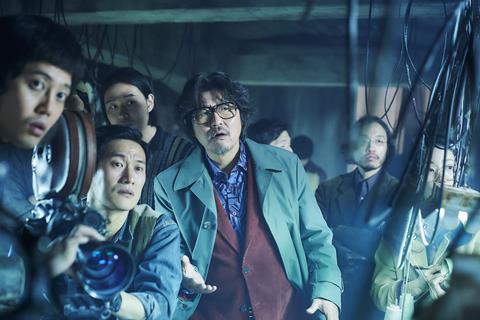 Mongolian distributor Filmbridge is on an acquisitions drive at the Cannes market, picking up a raft of titles led by Kim Jee-woon's Out of Competition drama Cobweb from South Korea's Barunson E&A.
In a show of support for embattled Ukraine, the company picked up all that was available from Film UA, comprising director Stanislav Tiunov's drama Bucha, the story of a refugee from Kazakhstan who saved hundreds of Ukrainians in cities and towns occupied by Russian troops; newly launched horror The Witch of Konotop; werewolf thriller Maksym Osa; and fantasy Myrnyi - 21: On The Frontline.
Filmbridge also pre-bought Hideo Nakata's latest horror The Forbidden Play and Takashi Shimizu's horror Immersion from Japan's Toei.
From Germany's Studio 100, which specialises in children's and family-oriented films, Filmbridge picked up animations including 200% Wolf, Being Betty Flood, Giants Of La Mancha, and Ella Bella Bingo.
Further upcoming titles secured by the buyer include South Korean company Hive Filmworks's action-adventure Paradise and thriller Cornell's Box as well as Hungarian outfit Luminescence's The Big Trip 3: Race Around The World.
"The market this year has been great so far," said Tsogtbayar 'Tsogo' Namsrai, founder and CEO of Filmbridge. "Although I tried to take fewer meetings this time, it was still busy. In terms of traffic, it felt like the whole market and industry has fully recovered.
"The price for us is still not dictated by the size of the budget or talent, rather how much we can afford. I am in a loss with many titles but hoping to at least break even within the duration of the term. Most of the sales agents have been very understanding and supportive."
Tsogo added that it has been an exciting year for Mongolia at Cannes with Only If I Could Hibernate in Un Certain Regard.
"It is the first Mongolian full-length movie selected for Cannes," he said. "Many of my foreign colleagues and friends in the industry congratulated me although I had nothing to do with the film because everyone knows how hard I have been working to introduce both Mongolian films and the market.
"I was by myself when I first started but look at today. We have the Mongolian National Film Council and a movie in Cannes, with many filmmakers here with projects."
Separately, Cobweb also sold to Japan (Happinet Phantom Studios), Taiwan (MovieCloud), Hong Kong/Macau (Edko Films), Singapore, Malaysia, Indonesia and Thailand (Clover Films), France and French-speaking territories (The Jokers Films, handled by Finecut), German-speaking territories and Italy (Plaion Pictures), Spain (La Aventura), CIS (Arna Media), Middle East (Phars Film), India (Impact Films), ex-Yugoslavia (Cinemania), worldwide inflight (Anuvu/Emphasis).