EXCLUSIVE: Charlotte Mickie and her Toronto-based team have acquired international sales rights to The Ink Connection's 'fake fiction' feature ahead of its European festival premiere in Switzerland.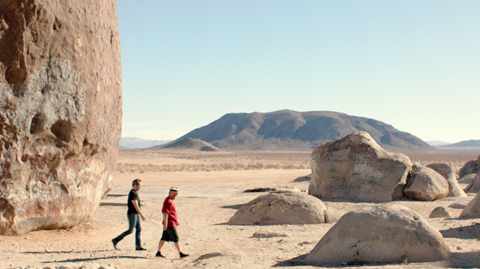 Pierre Bismuth directed and Gregoire Gensollen produced Where Is Rocky II?, which will screen in Locarno's Fuori Concorso section.
The film follows the efforts of Bismuth, who wrote the story to Michel Gondry's Eternal Sunshine Of The Spotless Mind, in tracking down a fabled and undocumented work of art by Ed Ruscha.
When Bismuth heard that the renowned artist had created a rock out of resin, named it Rocky II and deposited it somewhere in California's Mojave Desert in 1976, he hired a private investigator and two Hollywood screenwriters to find it and construct their own theories about the mystery.
The film debuted at Hot Docs in Toronto earlier this year and opened Art Basel's film programme last month with an exclusive screening.
It features High Fidelity and Gross Pointe Black screenwriter DV De Vincentis, Sherlock Holmes and Invictus writer Anthony Peckham, and Mike White of School Of Rock fame, alongside art world luminaries such as Los Angeles County Museum Of Art director Michael Govan, Los Angeles Museum Of Contemporary Art director Philippe Vergne, philanthropist and collector Eli Broad, and Hammer Museum chief curator Connie Butler.
Actors Robert Knepper and Milo Ventimiglia also appear.
"We're delighted to be representing this extremely original film which is as playful and provoking as Rocky II itself," said Mickie. "Mongrel International has been thrilled to work on a number of movies that showcase the cutting edge of contemporary culture and Where Is Rocky II? fits that mandate beautifully both in form and content."
Gensollen added: "We are thrilled to be teaming with Mongrel International on Where Is Rocky II? Charlotte Mickie and her team have impeccable taste, and is the ideal partner to bring this unique film to a worldwide audience theatrically."
UTA and Cinetic jointly represent Canadian and US rights.