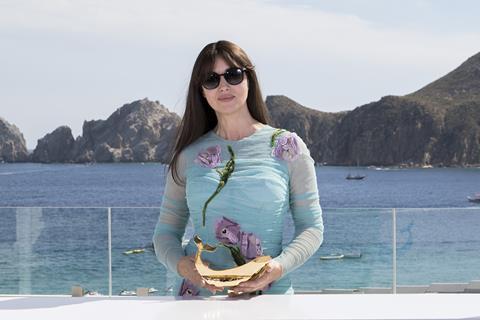 Monica Bellucci, Ricardo Darín and Agnès Varda will all receive Donostia Awards at the 65th San Sebastian Festival (Sept 22-30).
The award recognises "outstanding contributions to the film world of great names who will be part of cinema history forever", with Argentine star Darín, Italian actress Bellucci and French New Wave filmmaker Varda this year's choices.
Bellucci has worked in both Italian and English-language films, and is perhaps best-known for starring in The Matrix trilogy and Bond film Spectre, while Ricardo Darín has starred in the likes of Nine Queens, El Hijo de la Novia and Luna de Avellaneda.
Varda is one of the innovators of the French New Wave, some of her most famous works being Cleo de 5 a 7 and La Pointe Courte.
San Sebastian also confirmed a number of stars that will appear at this year's festival, including Javier Bardem, Bérénice Bejo, Steve Coogan, Glenn Close, Penélope Cruz, James Franco, Jean-Pierre Léaud, Benoît Magimel and Arnold Schwarzenegger.
John Malkovich will preside over the Official Selection jury this year, which will be comprised of actors Dolores Fonzi and Emma Suárez, filmmaker William Oldroyd, producer and screenwriter Paula Vaccaro and cinematographer Fabio Cianchetti.
The festival is due to open with Wim Wenders' Submergence, while the likes of Darren Aronofsky's mother!, Michael Haneke's Happy End will compete in the Pearls selection.
San Sebastian Film Festival takes place Sept 22-30 in Spain.