Vertigo Films has released the first trailer to sci-fi sequel Monsters: Dark Continent.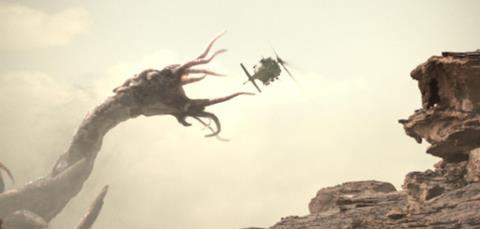 Monsters: Dark Continent, the highly-anticipated film sequel to Gareth Edwards' Monsters, is set for release in UK cinemas on Nov 28.
BAFTA winner Tom Green directs his debut feature, which stars Joe Dempsie, Johnny Harris, Kyle Soller, Sam Keeley, Nicholas Pinnock and Parker Sawyers.
The film, set 10 years on from Monsters, follows four new recruits from Detroit as they carry out their mission to rescue five soldiers who have been lost in the 'Infected Zone'.
Produced by Vertigo Films' Allan Niblo and James Richardson, it was written by Jay Basu.
The thriller has been described as "beautiful and heartfelt" by Edwards, whose low budget feature debut grabbed the attention of Hollywood and secured him a job directing summer blockbuster Godzilla. He has now been attached to direct a Star Wars spin-off movie.
Edwards is executive producer on Monsters: Dark Continent alongside Scoot McNairy.
Monsters was made for less than $500,000 but grossed more than $4.2m at the box office when released in December 2010.