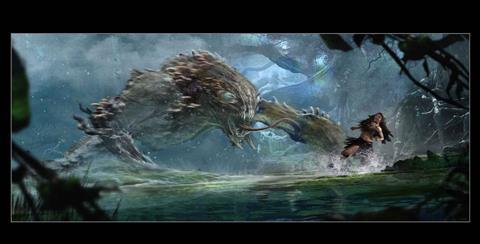 Screen can exclusively reveal the second wave of titles at the upcoming Frontieres genre international co-production market and forum scheduled for July in Montreal.
Scroll down for the full list
Market selections include Ashlea Wessel's horror Light Of The Void, Ryan Ward's magic realism tale Pure Science Fiction, and James Watt's horror Worm all from Canada, alongside Jan Verdijk's Dutch psychological horror Alice, Peter Modestij's Sweden-Denmark body horror drama Sub, and Maria Arida's psychological thriller The Eyes Of Another from Brazil, among others.
Selected for the Forum section are TJ Cuthand's Canadian Indigiqueer adventure thriller Macîskotêw (Evil Fire), Noah Wagner's magic realist romance The Dirty Oyster from the US, and Rikke Gregersen's Norwegian horror thriller Until The Light Takes Us.
The Frontieres market will take place from July 26-29 with Forum overlapping on July 26-28. The concurrent Fantasia festival runs from July 20-Aug 9.
The first wave of previously announced market titles comprises the following projects: Milada Tesitelova's Animal (Czech Rep-Slov); Rhona Rees's Freya (Can-Austr); Ángela Tobón Ospina's Hall Of Dullness (Col); Olivier Godin's Anna Nous Parlera (Can); Daddy's Little Girl (UK) from Coral Amiga and Nicole Hartley; Cosmo Salovaara's Drawn (USA); Peter Hengl's Krampusnacht (Aus); Yannis Veslemes's North Pole (Gre); and Jeanne Leblanc's Visite Libre (Can).
The three previously announced Forum selections are: Audrey Ewell's And You As Well Must Die (USA-Pol); High Pressure (Fra) from Jean Mach and Nicolas Alberny; and In The Heart Of The South (Can) from Nyla Innuksuk.
SECOND WAVE
All descriptions provided by Frontieres.
Alice (Neth)
Dir. Jan Verdijk
When it becomes clear that their unborn daughter has complications, desperate parents-to-be Leon and Jaimy turn to a questionable midwife for the chance of making her 'healthy' again. As seemingly harmless alternative treatments slowly devolve into life-threatening rituals, the parents lose themselves in the desperation of helping their child.
Light Of The Void (Can)
Dir. Ashlea Wessel
A young photographer on the cusp of her big break captures a photo of an unwilling subject and finds herself at the centre of a series of mysterious, violent deaths.
Prism Lake (USA)
Dir. Carl W Lucas
When a young couple sets out for a quiet weekend in the mountains, they find themselves embroiled in the dark plot of a secret society with designs on resurrecting a long-forgotten Mesopotamian god.
Pure Science Fiction (Can)
Dir. Ryan Ward
A young architect's life begins to unravel when he starts to believe he can see his past and future lives.
Sub (Swe-Den)
Dir. Peter Modestij
Teenager Nina is desperately trying to win her best friend Cici back, while at the same transforming into something less human.
Taniwha (NZ, pictured)
Dir. TBC
A young couple fleeing tribal warfare find themselves in the valley of a shapeshifting monster: the Taniwha. Only one of them can survive.
Thank God It's Friday (Neth)
Dir. Michiel ten Horn
When, after a "sabbatical", high school teacher Joe finds a connection with a group of similar tormented colleagues during their weekly night of playing An Apple for the Teacher – a home-made role-playing game where the teachers hypothetically murder their most-hated students – one particularly nasty student gets under their skin and pushes the game into more and more realistic territory.
The Eyes Of Another (Bra)
Dir. Maria Arida
Trapped in a psychologically abusive marriage, the renowned choreographer Olivia Klein has an affair with Julien, one of her dancers. When a horrific fight ends with her husband Nathan dead and Julien unrecognisably disfigured, the lover undergoes reconstructive surgery to look like the husband and hide the murder. However, Olivia soon begins to question the identity of the man who survived.
Worm (Can)
Dir. James Watts
Be famous again… and eat whatever you want.
FORUM
Macîskotêw (Evil Fire, Can)
Dir. TJ Cuthand
The story of a troubled hero, Kîsik, who wants to keep the ones she loves safe, while looking for answers about her missing mother.
The Dirty Oyster (USA)
Dir. Noah Wagner
When a jaded journalist encounters her "soulmate" at a restaurant selling the promise of True Love, she embarks on an increasingly mind-bending journey to expose The Chef as a fraud.
Until The Light Takes Us (Nor)
Dir. Rikke Gregersen
A renowned journalist returns to her hometown to make a podcast series about the wave of suicides that hangs like a dark cloud over the town's black metal scene. In search of answers about where things have gone wrong, she unearths truths and conspiracies about the town that put both herself and others in danger.