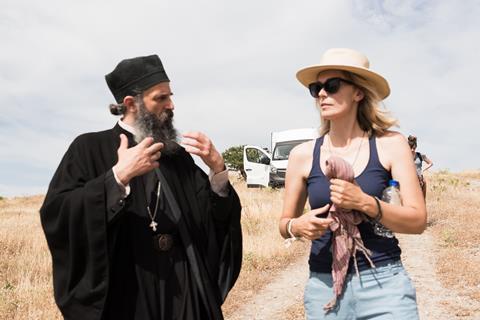 Moscow International Film Festival audience award winner Man Of God will open theatrically in Russia via Rocket Releasing and in Greece through Feelgood Entertainment on August 26, Pinnacle Peak Pictures VP of international sales Ron Gell announced on Thursday (May 20).

Gell is in active talks with independent theatrical distributors throughout Europe, Eastern Europe, and Latin America and deals are pending.
Yelena Popovic directed the film, which shot under Covid protocols in Greece last summer and will premiere at the 15th Los Angeles Green Film festival running May 22 and 23.
Hellenic Academy Award winner Aris Servetalis (The Waiter, Alps) stars alongside Alexander Petrov (Ice, Gogol: The Beginning), and Mickey Rourke (The Wrestler, Angel Heart) in the life story of St. Nektarios of Aegina from Greece.
The humble Greek Orthodox priest beloeved by the people was persecuted by religious authorities, stripped of his priesthood and sent into exile. He continued to care for the poor, teach peasant girls to read and write, inspired young men to enter the priesthood, and established a convent in a barren island that stands today as a beacon for pilgrims.
Alexandros Potter and Popovic of Simeon Entertainment produced with Kostas Lambropoulos of Viewmaster Films.
"The audience award is validation of the worldwide interest in the true story life of St. Nektarios," said Gell. "His message is as relevant today as it was in the 19th and early 20th century. It is a message, as we are still fighting the worldwide pandemic, of inspiration, hope and devotion.
"In addition to other festivals we will be entering the film in, we will be announcing shortly additional sales to other territories prior to attending Cannes 2021."