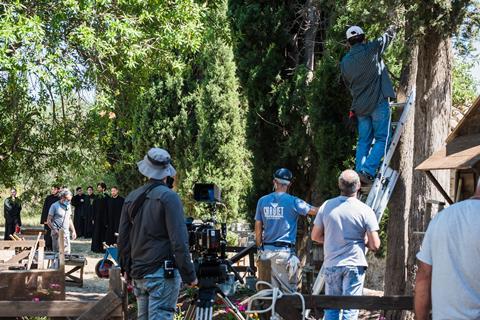 Man Of God was two days out from the start of production when Greece went into lockdown in mid-March, so when restrictions were lifted at the end of May producer Alexandros Potter knew he had to act fast.
"For us we felt the right thing was to start production and get as much done as we could," said Potter, who runs Simeon Entertainment with the faith-based film's writer-director Yelena Popovic.
"We'd scheduled the Greek release for November through Feelgood Entertainment," said Potter. "We'd put so much work into this and the actors were ready so we took the first opportunity we could."
Shooting on the film to star Alexander Petrov and Mickey Rourke began on June 8 in and around Athens. Pure Flix / Quality Flix is pre-selling the feature at the virtual Cannes market and has reported a strong response from buyers to the story of Saint Nektarios of Aegina, a humble Greek Orthodox priest who died in 1920 and was persecuted by powers within the church.
Three weeks into production and Potter said the days have by and large gone smoothly. Simeon Entertainment and local production partner View Master Films, a US-Greece feature that is benefiting from the 35% cash rebate, consulted health ministry guidelines to ensure everyone was in a safe environment from the start.
Cast and crew received personal protection equipment – they soon learned plastic face shields for crew are easier than masks when working in hot conditions – and social distancing measures were implemented indoors.
A lot of the Man Of God shoot takes place outdoors, where distance requirements are not as stringent. Without any government mandate to do so, the production has dispensed with Covid-10 testing and temperature checks, whose effectiveness has been called into question.
"Everyone understood what we were dealing with," said Potter. "After two and a half months in lockdown, they were just happy to be back at work."
He added that craft services has changed and buffet-style trays are gone. "Everything is individually pre-packed in single units so there's no open food."
"It's definitely a challenge," noted Popovic of the overall impact of protocols. Nonetheless common sense has prevailed and Man Of God has found its rhythm.
"When we started there were minimal actors in a scene," said Potter. "We structured it with smaller scenes involving one or two actors, and we've increased the number as the rules have relaxed."
There has been no trouble securing permits to shoot in protected buildings and nearby ruins and historical sites. Production has already taken place on the island of Aegina, a 30-minute trip by boat from the main port of Athens, on the site where Saint Nektarios built a monastery.
So far it has been an all-Greek affair. The two big international stars have not arrived yet as their schedules are being worked out. Petrov, who plays Kostas, an assistant to Saint Nektarios at ecclesiastical school who becomes the priest's follower, will be required for two and a half weeks.
The filmmakers are fine-tuning Petrov's schedule as flights from Russia are limited. Once that is set, it will determine when to fly in Rourke, whose sole day of shooting as a paralysed man overlaps with Petrov.
At time of writing there were no restrictions on flights into the EU from the United States and Potter was keeping close tabs on the situation.
Everyone is keen to move ahead and do justice to the story.
"It's about how desire for power destroys people," said Popovic. "You can start with good intentions, and once power comes into play, that's when people are willing to do things that are not good anymore.
For Popovic, the challenge has been to find the middle ground between films about religion and/or faith that proselytise and those that attack religion's worst excesses.
"I believe Saint Nektarios was someone who will inspire people regardless of their religious beliefs or orientation," she said. "He was a wonderful man who cared about people and tried to do his best. A lot of us can relate to that."
Two-time Cesar winner Zbiegniew Preisner, who scored Krzysztof Kieslowski films including Three Colors: Blue, Three Colors: White and Three Colors: Red, is composing the score.