KFM: Russian investor boards 'Black Angel' remake, 'made in Russia' blockbusters, KFM pitching winners, Latido picks up Ukrainian debut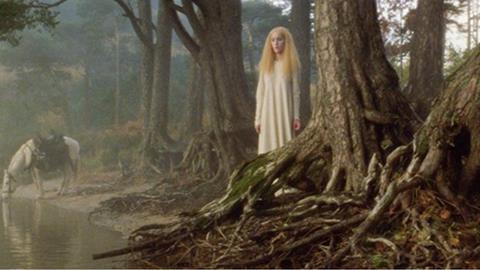 Russian investment is set to be tapped for Roger Christian's feature version of his 1980 cult short Black Angel.
Speaking during the first edition of the KinoPoisk Film Market (KFM) in Moscow, the film's producer Harald Reichebner said that 70% of the budget is in place as a co-production between the UK, Belgium and Hungary, with the final 30% now to come from an undisclosed private Russian investor.
The $9.7m production features an international cast including Dougray Scott, John Rhys-Davies, Rutger Hauer (who starred as The Mystic Monk in Christian's 1994 biopic Nostradamus), Turkish-German actress-model Meryem Uzerli, star of the Turkish TV series Muhtesem Yüzyil, and Russian actor Vladimir Mashkov, known to international audiences from Mission: Impossible – Ghost Protocol and Behind Enemy Lines.
Berlin-based, Austrian-born Reichebner – who had previously worked with Christian as the producer on Nostradamus - told Screen in Moscow that the shooting of battle scenes for Black Angel will begin at the Korda Film Studios in Hungary from this December.
The production will then move to Belgium in early 2017 for outside locations before returning to Hungary where Korda's sets from Game of Thrones will be used to recreate the film's mythological setting.
The original Black Angel short was the directorial debut of Christian, who had previously served as the Oscar-winning art director on Star Wars in 1977. The short was shown theatrically as a supporting programme to The Empire Strikes Back in the UK, Australia and Scandinavia in 1980.
Upcoming blockbusters 'made in Russia'
KFM's foreign guests were also treated to selected footage and teasers for a raft of domestic blockbusters by Russia's leading production houses, which will be coming into cinemas in the next 12 months.
They ranged from Fedor Bondarchuk's sci-fi drama Attraction, which will be released by Sony in the Russian Federation next January, through VFX house Kinodanz's in-house productions - the sci-fi action film Dance To Death, fantasy adventure Beyond The Edge (described as "Oceans Eleven meets Now You See Me"), and the sci-fi extravaganza Project Gemini – to Renat Davletyarov's family fairytale The Magicians (Volshshebniki).
Moreover, KFM's industry screenings featured several market premieres, including:
Pavel Lungin's Queen Of Spades, recently announced as the opening film in the Black Nights Main Competition in Tallinn next month and to be released by Twentieth Century Fox CIS in Russia next month
Andrey Silvestrov's ironic portrait of modern-day Russia, Ice-Hole, the winner of Screen International's Best Pitch Award at last year's Moscow Business Square
Anton Azarov's documentary Lobanovskiy Foreover about the legendary Dynamo Kiev manager Valeri Lobanovskiy
Anton Bilzho's feature debut Dreamfish, supported by the POV development fund and premiered at Kinotavr in Sochi last June
Sergey Mokritsky's war drama I Am A Teacher set during the Great Patriotic War (1941-1945)
KFM pitching winners
The line-up of projects in development and works in progress competed for a series of awards donated by KFM's partners.
Producer Artem Vasiliev's pitch of screenwriter Mikhail Idov's directorial debut The Humorist about the Soviet stand-up comedian Boris Arkadiev picked up two awards – Glavkino Studio's Prize of in-kind studio services and the KinoPoisk Prize of editorial coverage -, while Elizabeth Stishova's feature Suleiman Mountain – which is set to wrap principal photography at the end of November – received the World of Festivals Prize to help promote the film at Russian and international film festivals.
In addition, actor Alexander Gorchilin – who recently appeared in Ivan Tverdovsky's Zoology and Kirill Serebrennikov's The Student – took home Kosmosfilm Prize of postproduction services for his feature debut Acid which is set to begin shooting this December.
And a second award from the Glavkino Studios went to Cosmosfilm's project of Valiery Polienko's 1990-set drama Kosa which had also been pitched at the Moscow Business Square in 2015.
Latido Films picks up Ukrainian debut
Latido Films is to handle international sales on the feature debut When The Tree Falls by the Ukrainian director Marysia Nikitiuk, which was one of the projects presented at the CentEast Warsaw – Moscow showcase of works-in-progress during the four-day market.
Latido's Head of Sales Juan Manuel Torres joined the film's producer Igor Savychenko of Kiev-based Directory Films on stage in Moscow to present footage from the Ukrainian-Polish-French-Macedonian co-production.
Savychenko revealed that the film – which was presented at Tallinn's Baltic Event co-production market and Odessa's Film Industry Office – still has around nine days of shooting before production wraps.
Foreign guests at the first edition of the KinoPoisk Film Market included sales agents Loco Films, The Yellow Affair, Amadeus Entertainment and Dogwoof, distributors Satine Film (Italy), Arthaus (Norway), Gnome and Midship Inc. (both from Japan), the German VoD platform Pantaflix, producers Jörg Bundschuh (Kick Film), Ilkka Matila (Matila Röhr Productions) and festival representatives from Cannes' Directors Fortnight, Venice, goEast Wiesbaden, Tallinn's Black Nights and Helsinki's DocPoint.