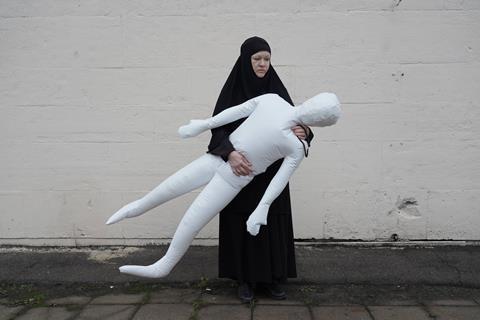 Russian filmmaker Ivan I. Tverdovsky's Conference won the main prize for best film at Germany's FilmFestival Cottbus on Sunday December 13.
It is the story that incorporates the tragedy of the Dubrovka Theatre attack in Moscow in 2002 with the fate of one woman and her family. The film, which is handled internationally by Reason8 Films, had been pitched at project stage at the East-West co-production market connecting cottbus during the FilmFestival Cottbus in 2019. It made its world premiere earlier this year at Venice's Giornate degli Autori.
It is the third time Tverdovksy has won the top award at Cottbus following Corrections Class in 2014 and Zoology in 2016.
The Cottbus international feature jury, consisting of Arndt Schwering-Sohnrey, Axel Ranisch, Bodo Kox, Maria Trigo Teixeira and Yang Ge described Tverdovsky's feature as "Afilm with the power of a whirlwind that simply sweeps everyone out of their cinema seats."
The best director award went to the filmmaker of another project previously pitched at connecting cottbus in 2018 –Poland's Piotr Domalewski for I Never Cry.
Three non-professional actors Marijana Novakov, Tijana Marković and Valentino Zenuni , stars of Serbian director Ivan Ikić's Oasis, shared the international prize for an outstanding individual performance. The love triangle between three teenagers living in a facility for the mentally handicapped also premiered at Venice Days in September where it was awarded the Europa Cinemas label.
Oasis was also presented with the Fipresci prize,
Further awards handed out at the online closing ceremony at the weekend included the DIALOGUE prize for intercultural communication to Czech director Bohdan Sláma's Shadow Country and the debut film jury's prize for best debut to Kosovar filmmaker Fatos Berisha's The Flying Circus.
In addition, German distributor Filmwelt Verleihagentur received the €10,000 'From Cottbus to Cinema" prize to support the theatrical release of Thor Klein's Adventures Of A Mathematician.
The 30th anniversary of FilmFestival Cottbus had originally been planned as a hybrid event in its traditional dates at the beginning of November but due to the pandemic eventually ran entirely online from December 8-13.
More than half of the festival's programme of 150 films will continue to be streamed online with German and English subtitles within Germany only via the FilmFestival Cottbus website until the end of December. A limited number of tickets are available to purchase for each title, but viewers will be able to watch the films as often as they like within the 24 hours after the first viewing of a film has begun.