Andrey Silvestrov's critique of contemporary society is currently in post-production.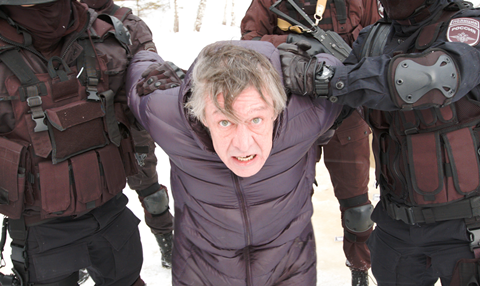 The Ice Hole (Prorub), Screen International's first Best Pitch Award winner at last year's Moscow Business Square, is now in post-production in Moscow.
Speaking during this year's Berlinale, director Andrey Silvestrov recalled how the film's shoot "was not easy because we were only supported by private companies and private individuals, our friends."
The low-budget production was produced by Silvestrov's new company the League of Experimental Films together with post-production outfit Cosmosfilm who had also given an award to The Ice Hole in Moscow last June.
"The government and large production companies were scared to get involved with us," Silvestrov said about the comedy, which follows an artist, an oligarch, a Russian president and an alcoholic.
"But I'm pleased that we have not made any compromises and we now have exactly what I wanted," he continued.
Silvestrov moved away from original plans to incorporate 3D elements in the film's ironic and tragic view of modern Russia to aim more for a style similar to the paintings of Vermeer.
"One of the most important features of Vermeer is that there is always just one source of light in his paintings," Silvestrov explained. "Scenes in our film also have one source of light and this comes from the television screen."
Even before the film was completed, Silvestrov has collaborated with the poet Andrey Rodionov and the writer Ekaterina Troepolskaya on creating a theatre performance based on The Ice Hole's critique of contemporary Russian media.
The theatre version premiered with great success at the beginning of February at Moscow's Meyerhold Theatre Centre, and the additional performances are planned in April and May.
Silvestrov had also been working parallel to the shoot of The Ice Hole on producing the artist-director Daniil Zinchenko's feature debut Elixir which had its world premiere in the Forum section at the Berlinale.