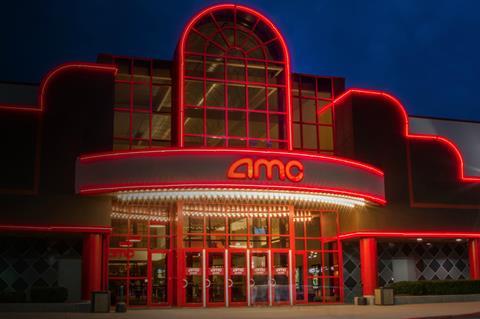 Update: MoviePass has hit back back at US exhibitor AMC's plans for a $19.95 a month subscription service.
A post on the MoviePass Twitter account said: "Heard AMC Theaters jumped on board the movie subscription train. Twice the price for 1/4 the theater network and 60% fewer movies. Thanks for making us look good AMC!"
They added: "AMC has repeatedly disparaged our model as a way to discourage our growth because all along they wanted to launch their own, more expensive plan. We want to make movies more accessible, they want more profit."
Original story: AMC Theatres is taking on exhibition disruptor-in-chief MoviePass and launching a subscription service on June 26 with several features that are not currently available to MoviePass members.
AMC Stubs A-List builds on the theatre chain titan's existing Stubs rewards programme and offers up to three films a week - roughly 12 a month - for $19.95 a month.
The service will allow members to watch films in any format including IMAX and 3D, in a single day should they choose. It also allows repeat viewings, as well as reservations online or at the box office.
None of these benefits is currently available to MoviePass members, however MoviePass CEO Mitch Lowe has said his service remains at liberty to introduce new benefits.
AMC Theatres' offer of three films a week does not carry over into the following week. Users will be able to watch roughly 12 a month for the cost and AMC Theatres is asking for a three-month minimum commitment.
MoviePass subscribers, who number some three million in the US now, can pay for one month's subscription and view films in most theatre chains.
There is no love lost between AMC Theatres, the world's largest exhibition chain, and MoviePass. Late last year when MoviePass unveiled its unlimited plan for $9.95 a month, AMC Theatres attempted to block sales of its tickets to MoviePass subscribers. That prompted MoviePass to block select AMC sites from its service, although they were subsequently reinistated.
AMC Stubs Premiere members who enroll in A-List will see their Premiere membership put on pause, although all the benefits from Premiere will carry through to AMC Stubs A-list: 10% back on concessions purchases, free size upgrades on popcorn and fountain drinks, and Priority Lanes at box office and concessions.
A-List members will earn 100 points per $1 spent on the monthly membership charge. Tickets reserved through A-List will not accrue AMC Stubs points, although the monthly recurring charge and purchase of additional tickets or concessions will earn points.
IMAX CEO Rich Gelfond praised the initiative on Wednesday, adding: "We expect to see a surge in demand for IMAX tickets from this exciting new program, which should drive incremental revenue to IMAX theatres by offering consumers – for the first time – the freedom to experience blockbusters such as Jurassic World in IMAX over standard offerings for no additional upcharge."
Earlier this week it emerged that MoviePass owner and data specialist Helios & Matheson is restructuring and will outline its proposals at a special meeting on a day to be scheduled in July.