Motion Picture Association of America chairman-chief excecutive Christopher Dodd confirms opposition to Digital Single Market proposals in CineEurope keynote address.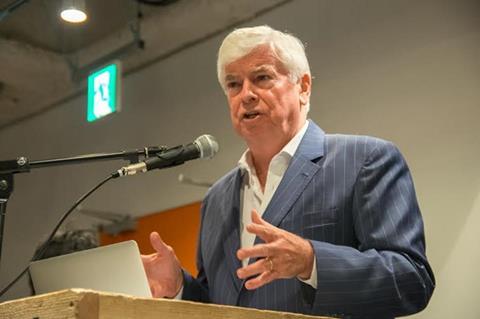 At the opening ceremony of the CineEurope exhibition conference in Barcelona, Motion Picture Association of America (MPAA) chairman-chief excecutive Christopher Dodd delivered his strongest battle cry yet against EU proposals for a digital single market.
Backing up comments he made in Berlin in February, the former US senator declared that "this issue is critically important to the survival of this industry. While the proposals for the digital single market are laudable, offering greater choice for European consumers and strengthening cultural diversity, in reality these ideas could very well do the exact opposite of what they claim to be their goals, causing great harm to Europe's film industry".
"This is not mere rhetoric," he added. "These concerns are very, very real."
As the organisation representing the six Hollywood studios, the MPAA's stance has been a welcome one for European industry as it continues to lobby against any potential infringement on the principle of territorial licensing, which the European Commission could bring in with its DSM proposals. Some have felt that Hollywood could be a beneficiary if geoblocking was eliminated altogether in Europe.
But Dodd made it clear that the MPAA is siding strongly with European producers, distributors and exhibitors. While praising "an exciting new collaborative world" in which cross-pollination between international talent and industries continues to grow, he cautioned that "some of the European Commission's proposals endanger the long-term well-being of Europe's diverse film industries."
Citing a BFI's study which estimated that only 6% of independent films produced between 2003-2011 made a profit, Dodd added: "Taking territorial licensing and exclusivity agreements away will mean less investment and far fewer productions. The ability of filmmakers and distributors to market and release their films where, how and when they think best is what gives them the greatest chance to succeed. Forcing every film to be marketed and released the same way everywhere, at the same time, is a recipe for failure."
"If we do nothing, and sit back and wait for events to unfold, then we might soon find ourselves waking up to a very different creative and business environment in Europe where the cinematic experience takes a back seat and consumers still suffer," said Dodd
Phil Clapp, president of the International Union of Cinema (UNIC), preceded Dodd with a speech that noted the huge success enjoyed by European exhibitors in UNIC's 36 member territories across the board last year (a record €8.5bn) while stressing that a strong relationship between the exhibition and distribution communities is the key ingredient for success in the European industry.
"Whatever the occasional challenges, each side remains dependent on the other for its success," said Clapp, who also cited the threat of uncontained piracy (which could be costing up to 15% of lost box office each year), the EC's still-unclear DSM proposals and "third-party disruptors" as threats to the industry.
Studios present slates
DreamWorks Animation, Studiocanal, and Mister Smith Entertainment and Amblin Partners all presented their upcoming slates on day one of the annual trade show for European exhibitors.
At the DreamWorks Animation showcase, CEO Jeffrey Katzenberg was presented with a lifetime achievement award as he prepares to step down from the company he founded. DreamWorks Animation was purchased for $3.8bn by Comcast earliers this year, following a rocky patch in which several titles underperformed for the company.
Nico Simon, president of Europa Cinemas and former CEO of cinema group Utopolis which was purchased by Kinepolis last July, was also presented the UNIC achievement award for contributions to European cinema.
"Diversity [of programming] is very important. There is not one [cinema] audience, there are many audience so we really need to be very diverse. Otherwise we have no long-term possibilities," said Simon.