All the winners from the event in Cluj.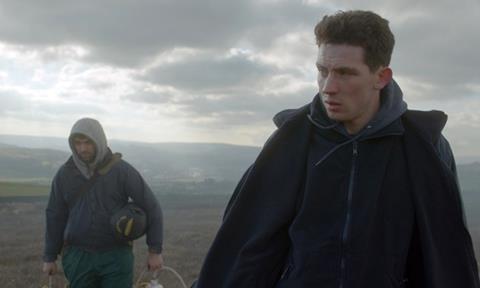 Nana & Simon's (Nana Ekvtimishvili and Simon Gross) My Happy Family was the big winner this weekend at the Transilvania International Film Festival (TIFF) in Romania's Cluj, clinching the $16,822 (€15,000) Transilvania Trophy.
In addition, the film's lead actress Ia Shugliashvili was presented with the best performance award for her first acting role as a woman giving her life a radical change on her 52nd birthday.
The competition jury, which included producers Andras Muhi and Elizabeth Karlsen and film critic Geoff Andrew, presented the best directing award to Icelandic film-maker Gudmundur Arnar Gudmundsson for his debut Heartstone which was also voted by the festival-goers as the winner of this year's Audience Award.
The jury gave its special jury award to UK film-maker Francis Lee's debut God's Own Country (pictured) and made a special mention of Glory, the second feature by the Bulgarian co-directing team of Kristina Grozeva and Petar Valchanov.
Meanwhile, the FIPRESCI Prize for a film in the Alt.Rom.Com sidebar went to Stergios Paschos' Afterlov.
Focus on Romania
TIFF has become an indispensable showcase for the latest trends in Romanian cinema and the 2017 edition was no exception.
This year's Romanian Days saw world premieres of new films by Radu Jude, Alexandru Solomon and Iulia Rugina as well as screenings of Calin Peter Netzer's Berlinale title Ana, Mon Amour and Adrian Sitaru's The Fixer.
Jude's Scarred Hearts was named best feature film in the Romanian Days competition, with Cosmin Bumbut and Elena Stancu's The Last Kalderash picking up the best debut honours.
TIFF's Transilvania Talent Lab collaborated this year with Europa Cinemas to provide an audience development and innovation lab as part of its five-day workshop for Romanian professionals working in arts and cinema theatre management.
Pitch Stop expands
Meanwhile, the fourth edition of the Transilvania Pitch Stop (TPS) cast its net wider than Romania and Moldova to include projects from other neighbouring countries – from Hungary to Georgia - seeking European production partners.
In total, sixteen projects were pitched to a professional audience including producers Cedomir Kolar, Guillaume de Seille, Elie Meirovitz, Iris Sommerlatte, Titus Kreyenberg, sales agents Xavier Henry-Rashid, Patra Spanou, and Ewa Bojanowska, and several festival programmers.
The TPS CoCo Award – which will enable the winning project to be pitched at the Connecting Cottbus east-west co-production market next November – went to the Moldovan film-maker Dumitru Grosei's feature debut, the thriller-social drama The Island, which will be produced by Brio Film which co-produced the comedy Eastern Business last year.
A residency at the Berlin-based Villa Kult was awarded to Bucharest-born Teodora Ana Mihai's second feature La Civil – a drama set in a north-Mexican town - which is being planned as a Romanian-Belgian-Mexican co-production for shooting in 2019.
La Civil, which has been developed at the Torino Film Lab, also received a development award sponsored by the Romania Film Centre and Dacin Sara.
An innovation at this year's TPS was the presentation of the Eurimages co-production development award to Georgian director Rati Tsiteladze's feature debut The Empty House as one of the international projects in the co-production platform.
The Empty House had previously been shortlisted for the Sundance Screenwriters Lab and was selected for this year's Cannes Cinéfondation Residency.