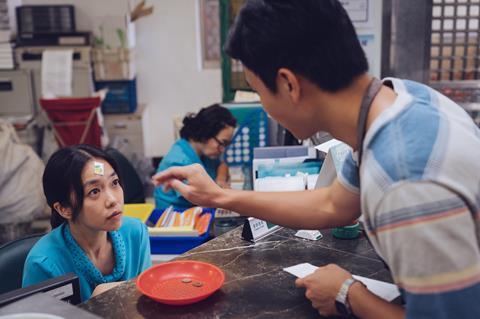 Chen Yu-hsun's comedy drama My Missing Valentine was the biggest winner at Taiwan's Golden Horse Awards on Saturday night (November 21), taking five prizes including best narrative feature and best director.
The film, which was produced by leading Taiwanese producers Yeh Jufeng and Lee Lieh, also took best original screenplay (Chen Yu-hsun), best visual effects and best editing.
Best actress went to Little Big Women for the performance of veteran Chen Shu-fang, who also took best supporting actress for her role in Dear Tenant.
Best actor went to Mo Tzu-yi for Dear Tenant, about a young man who takes care of the mother and son of his deceased boyfriend, while best supporting actor went to Nadow Lin in Classmates Minus.
Both the awards and Golden Horse Film Festival (November 5-22) took place as physical events, due to Taiwan's successful handling of Covid-19. But same as last year, the awards had very few Hong Kong and mainland Chinese nominees due to China's boycott of the ceremony following a political speech by a Taiwanese award winner in 2018.
Hong Kong independent films to win awards at this year's ceremony included Beyond The Dream, which won best adapted screenplay for Felix Tsang and Kiwi Chow.
Earlier in the week, Taiwanese project SARStorm, to be co-directed by Lin Chun-yang and Aileen Li, won three prizes at the Golden Horse Film Project Promotion (FPP, November 16-18), including the Grand Prize, the Catchplay Development Award and the Central Picture Corporation Award.
Other FPP winners included Shen Ko-shang's Deep Quiet Room, which took the Taipei New Horizon Screenplay Award; Chong Keat-aun's Snow In Midsummer, which took the CNC Cash Award; and Oliver Chan Siu-kuen's Her Lullaby Director, which took the FPP Visionary Award.
GOLDEN HORSE AWARDS 2020 WINNERS:
Best film – My Missing Valentine
Best director – Chen Yu-hsun, My Missing Valentine
Best actor – Mo Tzu-yi, Dear Tenant
Best actress – Chen Shu-fang, Little Big Women
Best supporting actor – Nadow Lin, Classmates Minus
Best supporting actress – Chen Shu-fang, Dear Tenant
Best new director – Chong Keat-aun, The Story Of Southern Islet
Best new performer – Chen Yan-fei, The Silent Forest
Best original screenplay – Chen Yu-hsun, My Missing Valentine
Best adapted screenplay – Felix Tsang, Kiwi Chow, Beyond The Dream
Best documentary – Lost Course, Jill Li
Best animated feature – City Of Lost Things, Yee Chih-yen
Best live action short – Night Is Young, Kwok Zune
Best animated short – Night Bus, Joe Hsieh
Best cinematography – Yao Hung-I, Your Name Engraved Herein
Best visual effects – Tomi Kuo, My Missing Valentine
Best art direction – Chao Shih-hao, Classmates Minus
Best makeup and costume design – Raymond Kuek, Azni Samdin, Number 1
Best action choreography – Teddy Ray Huang, Li Shao-peng, Get The Hell Out
Best original film score – Fran Chen, Dear Tenant
Best original film song – Your Name Engraved Herein
Best editing – Lai Hsiu-hsiung, My Missing Valentine
Best sound effects – Kuo Li-chi, Lee Dong-hwan, The Silent Forest
Outstanding Taiwanese Filmmaker of the Year – Peng Ren-meng
Audience Choice Award – Classmates Minus
FIPRESCI Prize – The Story Of Southern Islet
Lifetime achievement award – Hou Hsiao-hsien