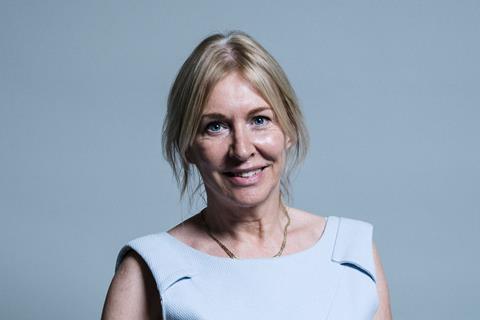 Nadine Dorries has replaced Oliver Dowden as UK secretary of state for Digital, Culture, Media and Sport (DCMS), as part of a reshuffle of cabinet ministers in the Conservative government.
Effective immediately, Dorries will oversee the brief which includes arts and culture, broadcasting and the creative industries. Among DCMS responsibilities are controlling public funding for the UK screen industries, including for the British Film Institute.
Dorries is member of parliament for Mid Bedfordshire, a position she has held since 2005.
She becomes the first DCMS secretary who voted to leave the European Union in the 2016 referendum – a move opposed by the majority of those in the creative industries. John Whittingdale, who also voted for Brexit, was secretary for Culture, Media and Sport in 2015-2016, before Digital was added to the brief in 2017.
She replaces Oliver Dowden, who is taking a new role as co-chair of the Conservative Party. Dowden was due to deliver a speech to industry figures at the Royal Television Society Convention this evening in Cambridge, in which was is believed he would reiterate his belief in a private ownership model for Channel 4. He will no longer be attending the event; the potential privatisation of Channel 4 is one of the major issues that the UK industry will be keen to hear Dorries' position on.