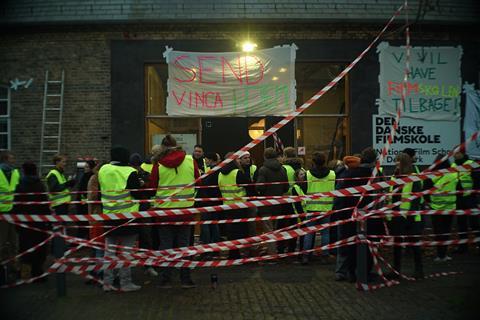 Vinca Wiedemann has stepped down from her role as director of the National Film School of Denmark, following a week-long student strike in protest at the new curriculum she has introduced to the school this year.
Denmark's Ministry of Culture, which provides financial support for the School, announced Wiedemann's departure through a statement on its website.
Bo Damgaard, director of Danish national film fund FilmFyn, will take over as acting principal from next week. The Ministry of Culture has begun searching for a permanent successor, with a view to the long-term development of the school.
Damgaard has been director of FilmFyn since 2011. Prior to that, he was chairman of the board of the Danish Film Institute and has worked extensively as a TV producer and programme manager for Danish TV channel TV2.
Wiedemann had been director of the school since March 2014. All 96 current students at the school went on strike on Friday, November 15, following the dismissal of head of documentaries Arne Bro, a popular member of staff.
A public petition calling for Wiedemann's departure had been signed by 893 people as of this morning, including directors Lone Scherfig, Dagur Kari, Niels Arden Oplev, Bille August and Nikolaj Arcel.
Rasmus Prehn, Denmark's minister of culture, said, "The situation at the film school is untenable. The school needs support from students, teachers and the industry. Unfortunately, that support is no longer there. Both Vinca Wiedemann and the Ministry of Culture agree. That's why Vinca Wiedemann is now quitting as principal. Despite the fact that Vinca Wiedemann has made a great effort, personal issues must not get in the way of the film school and the future of Danish film. Now there is a need for teachers, students and management to come together again about their school."
"The film school has been through a turbulent timem" said Damgaard. "My first task is to go out and meet with teachers and students - and talk to all parties so that we can get back to school. I know how important the Danish Film School is to Danish film. And I will do everything I can to ensure that the school continues to be a place that educates some of the world's most talented filmmakers."
The student strike group are preparing a statement on Wiedemann's departure and Damgaard's appointment.
Founded in 1966, the School is Denmark's only state-funded higher education film and TV institution. Its alumni include Lars von Trier, Lone Scherfig, Susanne Bier, Thomas Vinterberg, and Niels Arden Oplev.