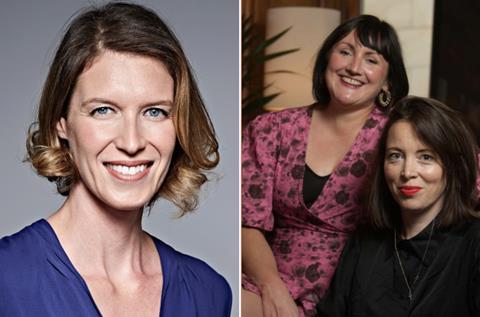 UK training body ScreenSkills has unveiled the 11 new members of its Film Skills Council, including Neon Films' Nicky Bentham and Working Title Films' head of production Sarah-Jane Wright.
They are joined by producers Ameenah Ayub Allen; Ciara Barry and Rosie Crerar of barry crerar; Jennifer Monks of The Fold; Chris Patterson of Causeway Pictures; Story Compound's Tolu Stedford; and Delta Pictures' Adam Partridge.
Also new to the council is BBC Film's head of production Emma Kayee; Film4's head of physical production Tori Parry; and senior manager; and physical production at Paramount Pictures' Alex Mosley.
Anita Overland remains as chair, while Nigel Bennett of post production supplier Molinare and Amy Smith of visual effects studio Framestore remain on the council, which is also attended by Emma Turner, Film and Animation Skills Funds and Future Skills.
The role of the Film Skills Council is to agree and oversee the Film Skills Fund's strategy including the identification and mitigation of skills gaps and shortages; support equity, diversity and inclusion in terms of progression and retention of the workforce; provide wider guidance and financial oversight and encourage commitment to and participation in the Film Skills Fund.
The new membership aims to be representative of the film industry across the UK, from Northern Ireland, Scotland, Wales and the north of England.
Additionally, a new expert advisory group for exhibition and distribution has been created. Members will include former members of the council Phil Clapp (UK Cinema Association); Geraldine Maloney (Film Distributors Association) and Charlie Bloye (Film Export UK). The exhibition and distribution group will meet at least twice a year with the Film Skills Fund team to share sector intelligence and discuss any specific challenges and opportunities for collaboration. The Film Skills Council will also regularly consult and collaborate with other agencies and organisations across the UK screen industry.
"As the Film Skills Fund approaches its 25th anniversary next year, we agreed it was a good time to review how the Film Skills Council could evolve and be even more supportive to the film industry workforce," said Overland, Film Skills Council chair. "The film sector, like the rest of the screen industries has evolved significantly over the last two decades. The changes that we are announcing today to the Council will ensure that it can continue to best serve and support the sector and the workforce across the UK who have dedicated their careers to making great films."
"The Film Skills Council brings together a wealth of experience and expertise from production companies, producers alongside broadcasters from across the UK," added Turner, head of the Film and Animation Skills Funds and Future Skills. "As well as continuing to work with other agencies and organisations from across the sector, the new exhibition and distribution group will also ensure that we are hearing from our vital theatrical release custodians to help inform our skills strategy moving forward."