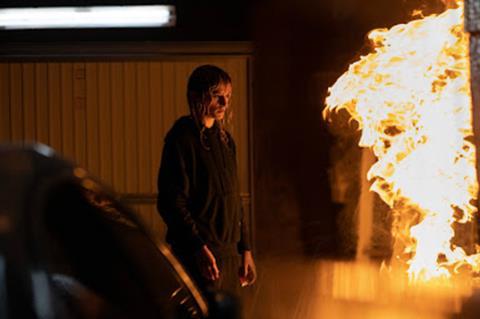 Neon's Titane directed by Julia Ducournau has scored the biggest US opening weekend by a Palme d'Or winner since Fahrenheit 9/11 back in 2004.
The body horror starring Agathe Rouselle and Vincent Lindon grossed an estimated $515,747 from 562 screens over the Friday-Sunday period. It produced the fourth highest debut by a Palme d'Or winner behind Michael Moore's documentary ($23.9m from 868 cinemas in June 2004), Quentin Tarantino's Pulp Fiction ($9.3m from 1,338 cinemas in October 1994) and David Lynch's Wild At Heart ($2.9m from 532 cinemas in August 1990).
Titane also bears the distinction of delivering the second highest opening weekend for a French film in the US since Alex Aja's High Tension (Haute Tension) opened on $689,091 from 1,323 cinemas in June 2005.
Titane grossed $223,120 on Friday, $173,330 on Saturday and $119,297 on Sunday. The weekend per screen average was $918.
Ducournau became the first solo female winner of the ultimate prize at Cannes Film Festival in July (Jane Campion for The Piano shared the award in 1993 with Chen Kaige's Farewell My Concubine). Titane received its US premiere at New York Film Festival late last month and is nominated at the 34th European Film Awards set to take place in December in Berlin.
Wild Bunch handles international sales and Altitude and Film4 distribute in the UK and Ireland. Film4 has broadcast and VoD rights.
This is not the first time Neon has released a Palme d'Or winner. Parasite launched pre-pandemic over the October 11-13 2019 period on three cinemas, grossing $393,216.