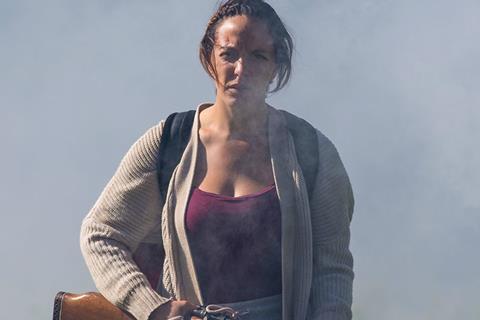 Netflix has acquired French-Canadian horror Les Affamés by Québécois filmmaker Robin Aubert (Saint Martyrs Of The Damned, Crying Out).
Aubert's latest work takes place in a remote village in upstate Quebec where a handful of survivors go on the run after the bodies of local people break down and they turn against their loved ones.
Marc-André Grondin, Monia Chokri, Micheline Lanctôt, Brigitte Poupart, Charlotte St-Martin, Marie-Ginette Guay Luc Proulx and Édouard Tremblay-Grenier star.
Stéphanie Morissette and C.S. Roy of La Maison de Prod in Montreal produced Les Affamés.
"Les Affamés enraptured audiences in Canada and we're delighted to bring this unique Québécois voice to other countries around the world," Scott Stuber, head of Netflix's film group, said.
"From the US to Japan to France, millions of Netflix members will be able to stream Robin Aubert's extraordinary thrill ride. This is another exciting example of the investment the company is making in Canadian culture and bringing its stories and artists to the world."
"I am so excited that viewers around the world will get the chance to watch Les Affamés, " writer-director Aubert said. "I'm also proud for the Netflix audience to experience its thrills and chills in its original Québécois version, my mother tongue, which is so rich and colorful, full of history and mystery, something that fully characterizes my universe as a filmmaker.
"Even if I truly believe in mankind, I'm terrified when rage and hate get the best of us. Les Affamés echoes the current state in western societies. Making a zombie movie was my own personal way of expressing both my fears and hopes about what's lying ahead of us."
Les Affamés premiered in Toronto last autumn where it won Best Canadian Feature, and later screened in Fantastic Fest, Montreal Festival du Nouveau Cinéma, Sitges, and the Torino Film Festival.
It is a Les Films Christal presentation of a La Maison de Prod production. Sara May of Paris-based Alma Cinema handled international sales.
The film opened theatrically in Canada in October and is nominated for five Canadian Screen Awards, including best motion picture.
Les Affamés will launch on Netflix worldwide excluding Canada, Latin America, and Eastern Europe on March 2. It will be available to all Canadian Netflix members starting next year. Alma Cinema licensed Latin America and Eastern Europe.