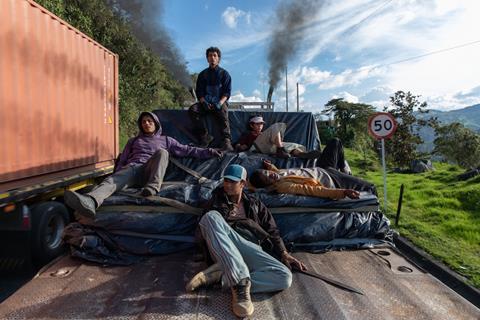 Netflix has picked up the Americas excluding Colombia and Mexico on Laura Mora's San Sebastian Golden Shell winner and Colombian Oscar submission The Kings Of The World.
The drama about friendship among a group of street boys from Medellin, Colombia, will also launch on the platform after its theatrical releases in Colombia and Mexico through Cinecolor and Interior 13, respectively.
Mora, who broke out with her 2017 revenge drama Killing Jesus, co-wrote the screenplay with María Camila Arias. The Kings Of The World follows five boys as they set out on a journey in search of the promised land.
The cast features Carlos Andrés Castañeda, Davison Andrés Flórez, Brahian Stiven Acevedo, Cristian Camilo Campaña, and Cristian David Mora.
Cristina Gallego, whose producing credits include previous Colombian Oscar submissions The Embrace Of The Serpent, Memoria, and Birds Of Passage, served as producer with Mirlanda Torres. Co-producers are Katrzyna Ozga, Nicolas Steil, Pilar Peredo, Edgard Tenembaum, Gerard Lacroix, Regina García Solórzano, and Elisa Fernanda Pirr.
Netflix negotiated the territories with Spanish sales agent Film Factory.