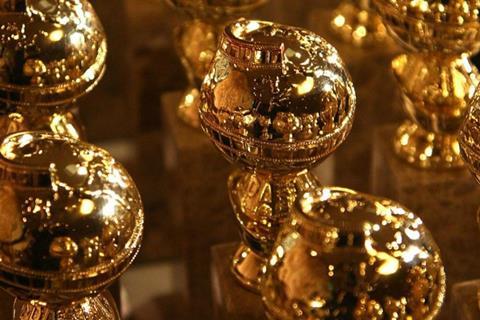 UPDATE: The backlash against the beleaguered Hollywood Foreign Press Association (HFPA) continued over the weekend as Netflix, Amazon Studios and celebrities added their voices to the wave of frustration following the awards group's proposed reforms.
Advocacy group Time's Up and a coterie of PR firms spoke out on Friday when they said the HFPA's proposed structural changes in response to an LA Times exposé alleging unethical conduct and a lack of diversity among its membership did not go far enough.
Subsequently it emerged that Netflix co-CEO Ted Sarandos had written to the group. Amazon Studios joined the fray, with both streaming platforms saying they would not work with the group until sincere and meaningful changes were made.
On Monday (May 10) WarnerMedia issued a statement expressing similar sentiments.
LGBTQ advocacy group GLAAD Media and the National Association of Black Journalists issued statements, while recent Golden Globe winner Mark Ruffalo (I Know This Much Is True), and Scarlett Johansson have also spoken out.
Johansson referred in the trade press to having often faced "sexist questions and remarks by certain HFPA members that bordered on sexual harassment" and said it was time to step back from the group.
Ruffalo called out the group on Friday for resisting the change that was being asked of it.
The HFPA gave itself a September 1 deadline to hire a chief diversity, equity and inclusion officer, and its other goals include bringing in 50% more members by the end of 2022 – starting with around 20 new members this year with a focus on Black members.
ORIGINAL MAY 7 REPORT: Advocacy group Time's Up said on Friday (May 7) the Hollywood Foreign Press Association's (HFPA) proposed reforms do not go far enough, while leading PR firms urged the voting group to effect change sooner.
In a majority vote yesterday, HFPA members approved measures proposed by the board that include, among other things, bringing in 50% more members by the end of 2022 – starting with around 20 new members this year with a focus on Black members.
The move was endorsed by Golden Globes show producer dick clark productions and network NBC, however Time's Up head Tina Tchen was not of the same mind.
Tchen described the measures as "window-dressing platitudes", adding that they ensured "that the current membership of the HFPA will remain in the majority and that the next Golden Globe Awards will be decided with the same fundamental problems that have existed for years".
She continued, "The HFPA's list of recommendations largely contains no specifics, no commitments to real accountability or change, and no real timeline to implement these changes.
"The HFPA's proposed September 1 deadline for some — but not all — reforms comes well after the next award cycle will have started. And even its proposal to increase membership by 50% comes with no commitments that the decisions to admit new members will be made in an equitable and inclusive manner with full transparency and oversight."
Leading PR firms issued a separate statement acknowledging the HFPA's move but voicing concern that a September 1 deadline would fall after the start of the upcoming awards season and would have no meaningful impact on the cycle.
The publicists said they would hold back from any HFPA-sanctioned events including press conferences until a timeline was established that "respects the looming 2022 season reality".