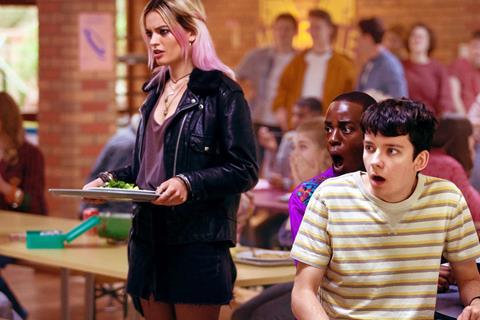 Netflix is committing "superhighway robbery" while "taking the British taxpayer for a ride" due to its tax affairs, according to an influential Labour MP and a host of other UK politicians.
Kicking off a debate in the UK parliament last night, Margaret Hodge pointed to the dire situation regarding Netflix's UK tax bill, while calling on the government to crack down.
Of particular ire to Hodge is that the US SVoD giant gains profit via the UK's high-end TV tax credit, for which it has received nearly £1m in the past two years.
"A huge chunk of our money—taxpayers' money—is being gifted straight into the coffers of Netflix in tax credits," she stated.
"It is nothing less than superhighway robbery. We are actually handing over cash while Netflix stashes money offshore."
Backed up by research from Tax Watch UK, Hodge said Netflix has "deliberately constructed a devious financial structure that has no other purpose other than to avoid paying tax".
Netflix's circa-£1 billion UK income is billed by a subsidiary company in the Netherlands and is then paid to a smaller subsidiary based in the UK, which makes up a "trivial proportion of the services the company provides", according to Hodge.
"Ironically, more than 90% was paid by the Netherlands-based company and went to Brazil, where the authorities use a withholding tax to extract money," Hodge continued.
"Is it not astounding that Brazil is more efficient at collecting tax from digital companies than we are? If Brazil can tax Netflix, why can't we?"
Tax Watch UK estimates the actual profit Netflix made in the UK was close to £70 million in 2018, so the company should have paid more than £13 million in corporation tax.
Hodge's plan
Hodge, who chaired the Public Accounts Committee for five years, is calling for video streaming companies such as Netflix to be included in the new digital services tax, which comes into effect in April.
The 2% tax will be placed on the revenues of search engines, social media platforms and online marketplaces that "derive value from UK users".
"If we want to stop this abuse we can," concluded Hodge. "The government can be assured that such action would command the support of the whole house, but failure to act represents a betrayal of every law-abiding taxpayer."
Other MPs backed up Hodge's calls. The DUP's shadow health spokesman Jim Shannon called the situation "simply disgraceful", while Labour MP Wes Streeting said international action against Netflix had "not been sufficient".
In response, Jesse Norman, the Conservative financial secretary to the treasury, refused to be drawn on discussing Netflix in particular.
He said, however, it is "necessary to consider the profitability of the business concerned, and the extent to which the activities that generate profits take place in the UK or abroad".
Norman said Hodge's digital service tax plan throws up difficulties as the tax is supposed to hit companies that "rely on their users to create value where that value is not recognised under current international tax rules".
Netflix recently returned to profit after several years in the red and recently topped the 100 million-subscriber mark outside of the US.
This story first appeared on Screen's sister site Broadcast