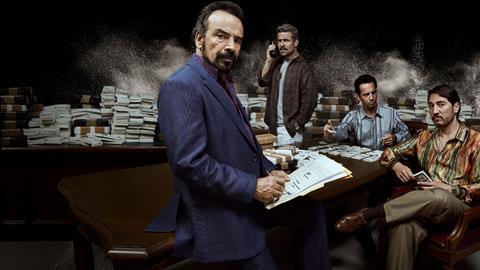 Netflix dominated the conversation in the late summer corridor in Canada, occupying nine out of the top 10 slots in a study by Parrot Analytics of the most coveted digital originals.
Over the August 20-September 19 sample period, Narcos emerged as the clear favourite in terms of the Los Angeles-based data science firm's proprietary Demand Expressions. Amazon Studios titles were completely shut out, although Hulu's Emmy winner The Handmaid's Tale ranked sixth in the roster of digital originals.
The research revealed a familiar pattern based on previous studies reported on Screen, whereby Netflix emerges as the dominant force in the digital originals sphere, only to slide down a broader chart reflecting desire for shows regardless of the platform they originated on.
Drug cartel series Narcos scored 2.067m Demand Expressions on the roster of digital originals in Canada, some way ahead of Stranger Things in second place on 1.484m, followed by Orange Is The New Black on 1.446m, Ozark on 1.392m, and 13 Reasons Why on 1.312m. Hulu's The Handmaid's Tale was the only non-Netflix show in the top 10, ranking eighth on 1.239m average Demand Expressions.
When the same period was applied to the broader field encompassing all TV shows regardless of provenance, Narcos ranked sixth as the only digital original and was dwarfed by HBO Canada's Game Of Thrones at the summit on 9.746m.
Parrot Analytic's weighted Demand Expressions metric gauges audience demand for a show within a country expressed across a range of platforms including social media, blogs, and peer-to-peer protocols.
Top 10 digital originals in Canada
Title / Platform / Average Demand Expressions
1. Narcos / Netflix / 2,067,134

2. Stranger Things / Netflix / 1,483,776
3. Orange Is The New Black / Netflix / 1,446,382
4. Ozark / Netflix / 1,392,316
5. 13 Reasons Why / Netflix / 1,312,433
6. The Handmaid's Tale / Hulu / 1,239,192
7. Marvel's The Defenders / Netflix / 1,078,349
8. Castlevania / Netflix / 653,085
9. Daredevil / Netflix / 639,544
10. Marvel's Iron Fist / Netflix / 619,458
Top 10 overall shows in Canada
Title / Platform / Average Demand Expressions
1. Game Of Thrones / HBO Canada / 9,745,723
2. The Walking Dead / AMC / 6,466,982
3. Rick And Morty / Adult Swim / 3,955,485
4. American Horror Story / FX Canada / 3,223,499
5. Suits / Bravo / 2,517,945
6. Narcos / Netflix / 2,067,134
7. Fear The Walking Dead / AMC / 1,982,643
8. Pretty Little Liars / Bravo / 1,969,714
9. Vikings / HISTORY Canada / 1,928,261
10. The Big Bang Theory / CTV / 1,863,152