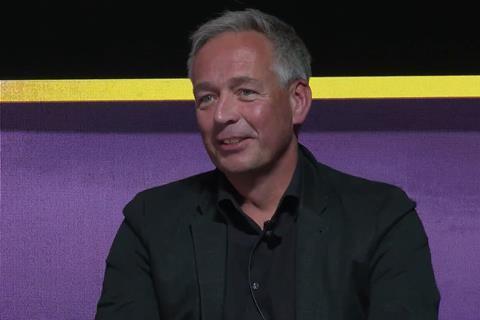 Netflix is actively planning to invest in Swiss production as streaming competition in the country intensifies.
"We are determined to do as much as possible in Switzerland, if [the content is] good and provides maximum joy to our members," said Wolf Osthaus, director of public policy for Netflix in Germany, Austria and Switzerland.
Speaking to an industry audience at the Geneva Digital Market (GDM) this week, Osthaus said: "Internationalisation of storytelling became the key strategic element in what we do," highlighting Netflix's growing investment in local productions.
"The great thing is that people have gotten used to watching international shows. It [viewing] is no longer dominated by the US. That for us is a huge opportunity. Hopefully, it will be an opportunity for the market as well."
Competition in the Swiss streaming market has increased in recent years. Netflix launched in the territory in 2014 and now has 2.8 million users (42% of the population). But recent entrants such as Disney+, Apple TV+ and Amazon Prime are gaining ground alongside domestic players such as the Swiss Broadcasting Corporation's Play Swisse and Blue Play, which telecom major Swisscom launched last month.
"It's great for the audience because they have huge choice and it is also great for producers because they have lots of demand," said Osthaus of the growing competition.
Netflix announced its first Swiss co-production earlier this year, a thriller feature titled Early Birds, produced by Zurich-based Hugofilm and CH Media.
But Osthaus emphasised that it was still early days for the streamer in the region, having launched its first German TV series, Dark, just a few years ago in 2017. Netflix does not yet have an office in Switzerland.
Addressing GDM delegates who asked about the lack of Swiss films on the platform, Osthaus said: "For us, it does not seem necessarily that Swiss people are coming to Netflix to watch Swiss content." He added that the streamer was likely having more success internationally with Swiss content than in Switzerland itself.
Asked if Swiss screenwriters and directors could pitch Netflix directly, Osthaus said: "It's helpful if you come through a producer or agent because obviously that helps open the door." He also warned audience members that it "wasn't the best idea" to send in a "huge script" on spec, and to try to pitch in English. "It's all about the story," he added.