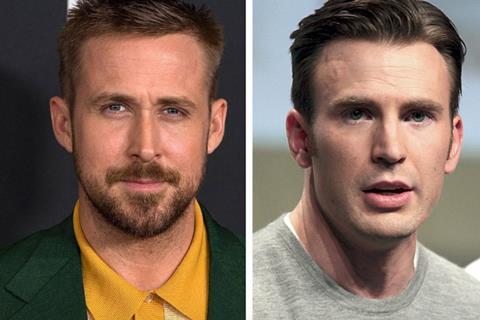 Netflix's Ryan Gosling and Chris Evans thriller Gray Man from the Russo brothers and Universal's Untitled Jordan Peele Project will receive support under California's new Film & TV Tax Credit Program 3.0.
Nine feature projects overall have been selected under the third-generation initiative that launched on July 1, replacing the state's 2.0 programme that started in 2015.
Gray Man is projected to bring an estimated $102m in below-the-line wages and other qualified expenditures to the state. The project housed at the streaming giant that has seen subscriber numbers boom during the pandemic could receive $20m from tax credits with uplifts if applicable.
As with all the state's film and TV tax credit projects, overall spending on the feature is forecast to be greater than "qualified" spend, factoring in above-the-line wages and other expenditures that do not qualify for incentives under California's programme.
Three of the five independent projects – the Jessica Chastain comedic drama Losing Clementine (which Sierra/Affinity represents for international and is being directed by Argentina's Lucia Puenzo), Nightfall, and the sports drama Sweetwater – were accepted into Program 3.0's new $10m-and-under qualified spending category, which reserves funds specifically for lower-budget independent films.
The other four are: Octavia Spencer sci-fi thriller Invasion (Film4 developed the project and is producing with Raw and worldwide rightsholder Amazon Studios, with the UK's Michael Pearce set to direct); Untitled Jimmy Warden Project; Untitled David O Russell Project from New Regency with Margot Robbie and Christian Bale attached, and Faster, Cheaper, Better from Dan Gilroy, which FilmNation handles internationally and CAA represents for US.
California Film Commission executive director Colleen Bell said, "Production activity is ramping back up in California amid Covid-19 with safety remaining a top priority, and Program 3.0 is attracting the kind of big budget films that generate a considerable amount of jobs and in-state spending."
Based on data provided with each tax credit application, the nine film projects announced on Monday (August 17) are on track to generate nearly $284m combined in qualified in-state expenditures.
Productions will employ an estimated 1,340 crew, 342 cast and 14,397 background actors/stand ins (the latter measured in "man days") over a combined 374 filming days in California.
According to the Commission the productions will also generate "significant" post-production jobs and revenue for California effects artists, sound editors, sound mixers, musicians and other workers/vendors.
Invasion, Nightfall, Sweetwater, Untitled Jimmy Warden Project, and Untitled Jordan Peele Project plan a significant amount of production outside the Los Angeles 30-mile studio zone.
Nearly 40% (142 out of 374) of the filming days planned by the projects will occur in Inyo, Kern, Mono, Riverside and San Bernardino counties, as well as other out-of-zone locations yet to be determined.
The Commission is eager to bring production activity beyond the 30-mile zone, and more than 45 out-of-zone film and television tax credit projects account for an estimated $140m in qualified out-of-zone spending across the state.
A total of 81 projects applied during the July 13–15 application period for Program 3.0's inaugural round of feature film tax credits. The California Film Commission has reserved a little over $50m in tax credit allocation for the nine conditionally approved projects. The list is subject to change, as applicants may withdraw from the program and their reservation of tax credits is reassigned to one or more projects currently on the waiting list.
The next and final application period this fiscal year for feature film tax credits will be held from January 25-27, 2021. The next application period for TV projects will take place from September 28-30 (for relocating projects) and October 5-7 (for recurring projects).
Losing Clemintine is set to receive $2.29m in tax credits with uplifts if applicable; Untitled Jordan Peele Project $8.36m; Untitled Jimmy Warden Project $7.94m; Untitled David O Russell Project $2.5m; Invasion $2.48m; Faster, Cheaper, Better $2.5m; Nightfall $2.55m; and Sweetwater $1.44m.